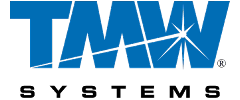 Beachwood, OH (PRWEB) March 07, 2013
TMW Systems will offer a free, expert webinar to help distribution and dedicated fleet management identify improvement opportunities for a more productive and profitable year. The webinar is offered on March 19, 2013 at 1:30 ET. Fleet managers, traffic departments and distribution operations with private fleets can benefit from the insights on cost savings through route planning and scheduling optimization.
In a lukewarm economic recovery, it is vital for distributors and private fleets to stay knowledgeable on new ways to wring greater efficiencies from operations and to control or lower costs. This webinar will identify improvement opportunities to look for with major impact for fleets. Guidance on how to assess the costs in time, labor and profit from missed opportunities can help keep fleet operations more competitive.
TMW Systems specializes in technologies for fleet management, route management and scheduling that help companies reduce operating costs, streamline route planning and dispatch, improve customer service and analyze fleet operations for better performance.
The educational Webinar, "3 Keys to Improve Your Fleet Operations in 2013" is scheduled for Tuesday, March 19, from 1:30 to 2:30 p.m. EDT. To participate in this free webinar, visit http://www2.tmwsystems.com/l/3622/2013-03-07/33q33p to register. Participants will need access to the Internet and a telephone to take part.
About TMW Systems
TMW Systems is the leading transportation management software (TMS) provider to for-hire and private fleets, brokerage and 3PL organizations. Founded in 1983, TMW has focused exclusively on providing mission-critical enterprise software to the transportation industry, including asset-based and non-asset-based operations as well as heavy-duty vehicle service centers. With offices in Cleveland, Dallas, Indianapolis, Nashville, Oklahoma City, Raleigh and Vancouver, the company serves over 2,300 customers, including many of the largest, most sophisticated and complex trucking companies in North America. TMW customers collectively manage over $71 billion in annual freight spend, direct more than 508,000 power units and maintain more than 1.7 million assets worldwide, including North America, Europe, Latin America and Australia-New Zealand.
For more information, visit appian.tmwsystems.com.
TMW Systems Inc.
21111 Chagrin Blvd.
Beachwood, OH 44122 USA
Ph. 216-831-6606
Fx. 216-831-3606