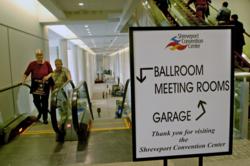 (PRWEB) March 07, 2013
The Shreveport Convention Center is hosting more than 20 events in March including the Automatic Transmission Service Group (ATSG) and the Louisiana Dental Association (LDA) both holding conventions this weekend.
The Automotive Transmission Technical presentation, sponsored by Transmission Parts Supply in Shreveport, will be presented by ATSG 7:30 am – 4:30 pm, March 8-9. Seminar speakers will include General Motors, Ford, Chrysler, and import professionals. Main speakers will be ATSG professionals.
ATSG is a technical support service for the automatic transmission industry, providing a technical hotline, books, software, bulletins, seminars, and technical courses for automotive transmission professionals.
Cost of registration is $215 at the door, $180 for pre-registered ATSG non-members, and $150 for pre-registered ATSG members. This event is open to the public.
The Louisiana Dental Association (LDA) will hold a professional workshop and convention at 7:45 am – 4:30 pm, followed by the President's Party at the Petroleum Club in Shreveport. The workshop continues on March 9 beginning at 7:15 am with breakfast and registration, followed immediately by the LDA House of Delegates meeting.
With more than 1,800 members, the LDA is the largest professional health organization for dentists in Louisiana. It is a state, grassroots organization whose purpose is to promote, advocate, and protect dental professionals.
Cost of registration is $150 for LDA members, $45 for staff and lab technicians, $245 for non-LDA members and non-Ark-La-Tex members, and free for Ark-La-Tex members. This event is open to dental professionals only.
For a complete Shreveport Convention Center calendar of events, visit http://www.shreveportcenter.com/calendar/.
###