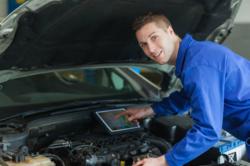 Early pilot shops showed productivity savings of over an hour each day using the EIS.
Kansas City, MO (PRWEB) March 08, 2013
Traditionally, auto technicians record the result of their vehicle inspections on pre-printed paper forms and once completed the inspection findings are re-entered into the shop management software application by a service advisor. And finally the customer is notified by phone to ask them for authorization of an estimate based on the inspection results.
With the release of the AutoVitals EIS, inspection results including high-resolution photos and recorded voice details of specific findings are immediately accessible by the service advisor allowing him to easily prepare an estimate in minutes. By simply tapping the screen, snapping an image and talking to the device, the technician increases productivity and accuracy of the inspection process. Motorists will then be able to review the results including images of affected vehicle systems selected by the service advisor. Included with the repair estimate is a "Job Educator" providing additional information including educational videos about each service so that they can make an informed and educated decision to authorize additional repairs.
According to Uwe Kleinschmidt, CEO of AutoVitals, "The early pilot shops, which average 60 cars per week, showed productivity savings of over an hour each day using the EIS and have seen increased levels of customer satisfaction too."
The new AutoVitals EIS will be released for general availability in Q2 2013 and pricing is not yet available.
About AutoVitals
Founded in 2009, AutoVitals is the automotive industry's leading provider of integrated solutions for internet marketing, motorist engagement and customer retention. AutoVitals focuses on providing high-value management and engagement service for the Independent Automotive Aftermarket. For more information contact AutoVitals at +1(866) 949-2848 or visit on the web at http://www.AutoVitals.com.