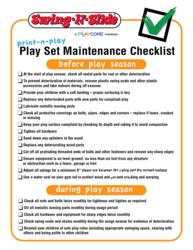 Outdoor play is important for building a child's cognitive, social, emotional, and physical development. Checking your play set for wear and tear will allow for longer and more productive play time.
Chattanooga, TN (PRWEB) March 12, 2013
Warm weather is coming soon and the kids are ready to get outside and play! Swing-N-Slide wants to remind families that compliant backyard recreation is the safest way to play. Outdoor play is important for building a child's cognitive, social, emotional, and physical development. Checking your play set for wear and tear will allow for longer and more productive play time.
Swing-N-Slide suggests using the following quick check list to inspect your play set for a spring and summer filled with fun and creative play!
Before Play Season

At the start of play season, check all metal parts for rust or other deterioration
-To prevent deterioration of materials, remove plastic swing seats and other plastic accessories and take indoors during off seasons

Provide your children with a soft landing – proper surfacing is key
Replace any deteriorated parts with new parts for compliant play
Lubricate metallic moving parts
Check all protective coverings on bolts, pipes, edges and corners – replace if loose, cracked or missing
Keep your play surface compliant by checking its depth and raking it to avoid compaction
Tighten all hardware
Sand down any splinters in the wood
Replace any deteriorating wood parts
Cut off all protruding threaded ends of bolts and other fasteners and remove any sharp edges
Ensure equipment is on level ground, no less than six feet from any structure or obstruction such as a fence, garage or tree
Adjust all swings for a minimum 8'' clearance between the swing and the ground surface
Use a water seal on your gym set to protect wood and prevent cracking and warping
During Play Season

Check all nuts and bolts twice monthly for tightness and tighten as required.
Oil all metallic moving parts monthly during usage period
Check all hardware and equipment for sharp edges twice monthly
Check swing seats and chains monthly during the usage season for evidence of deterioration
Remind your children of safe play rules including appropriate swinging space, sharing with others and being polite to other children
Playsets can last for many years if they are properly cared for and monitored. It's important to replace deteriorated swings and parts or upgrade for your growing child. Swing-N-Slide offers many alternatives to your basic swing seat including a heavy duty swing seat, the innovative Vortex Ring Swing, the modern Wind Rider Glider or even a multi-child swing like the Mega Rider or the 2 For Fun Glider.
The most important aspect in play is safety. Swing-N-Slide tests and adheres to the ASTM International regulations for residential play. To learn more on playset safety visit http://www.swing-n-slide.com for ASTM compliance information and how Swing-N-Slide meets or exceeds regulations for safe backyard play.
About Swing-N-Slide
Swing-N-Slide, PlayCore's consumer products division, is a leading U.S. manufacturer of residential backyard playground equipment and related accessories. Swing-N-Slide designs, manufactures and distributes play sets to home centers, hardware stores and play set retailers across the nation. Safety and quality have been the cornerstone of Swing-N-Slide's vision to provide children and their families with a safer play environment. For more information visit http://www.swing-n-slide.com
About PlayCore
PlayCore helps build stronger communities around the world by advancing play through research, education, and partnerships. The company infuses this learning into its complete family of brands – GameTime, UltraSite, UltraShelter, UltraPlay, GT Grandstands, Snug, Play and Park Structures, TotTurf, Everlast Climbing, and Swing-N-Slide. PlayCore combines best-in-class planning and education programs with the most comprehensive array of recreation products available to create play solutions that match the unique needs of each community served. PlayCore's corporate headquarters is located in Chattanooga, Tennessee. More information is available about PlayCore, Inc. at http://www.PlayCore.com.