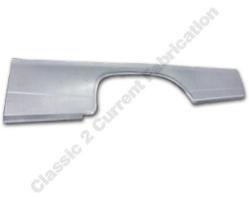 Pontiac made some beautiful cars and we'll do what we can to keep them on the roads.
Detroit, Michigan (PRWEB) March 07, 2013
Already known for their widespread selection of replacement auto body panels for many of the forgotten models, Classic 2 Current Fabrication has stepped up again to provide Pontiac lovers with hopes of getting their car out on the road again.
With products such as replacement floor pans, rocker panels, trunk pan and trunk extensions already available from them, Classic 2 Current Fabrication has just made and now offers replacement lower quarter panels for the 1963 and 1964 Pontiac Catalina, Bonneville and the Grand Prix.
To make these a practical rust repair panel and to allow them to cover all three models, the panel must be extended 2" at the rear for the Bonneville and modified from the mid-body line down for the 1963 models. Their main focus for these was the lower portion as well as the wheel opening and other common rust areas.
"Pontiac made some beautiful cars and we'll do what we can to keep them on the roads," explains owner Michael Laiacono. "We understand the growing need for available product for the Pontiac models and wanted to offer something to replace an area that is very common to rust and decay over the years". With plans already in progress for other replacement panels for the earlier and later year Pontiac models, they're making many restoration projects easier to finish.
Based outside of Detroit, Classic 2 Current Fabrication makes their product in house using a machine formed process making the product extremely affordable and perfect for rust repair work. Their selection of over 30,000 replacement parts for hundreds of makes and models is making c2cfabrication.com a must stop for everyone's restoration needs.