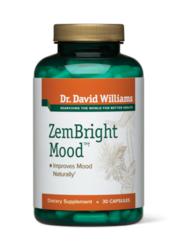 Potomac, MD (PRWEB) March 07, 2013
Healthy Directions, LLC, today announced the launch of ZemBright Mood™, a nutritional supplement developed by Dr. David Williams that quickly and naturally enhances mood, relieves stress, and increases focus and attention.
ZemBright Mood™ contains Zembrin®, a patented extract from carefully selected Sceletium tortuosum (also called "Kanna") plants, which have been used for centuries by the San Bushmen in South Africa to combat stress and fatigue, enhance mood, and relieve thirst and hunger. Zembrin® is the only Sceletium endorsed by the San Council.
"I've spent years searching for a safe, natural mood lifter that I trust 100 percent and highly recommend, so I was thrilled to discover Zembrin®," says Dr. David Williams, a medical researcher, biochemist, chiropractor, and leading authority on natural healing. "It's one of the few natural products I've seen that produces consistent and noticeable positive results on mood. To say I'm impressed would be an understatement."
Research studies have shown that Zembrin® increases levels of serotonin, one of the major neurotransmitters in the body that plays an important role in sleep, hunger/satiety, and mood. A clinical trial also found that Zembrin® enhances cognitive function by helping to increase attention, focus, motivation, and concentration. Zembrin® provided these benefits without any negative side effects. ZemBright Mood™ contains the full research dose of Zembrin®.
"Zembrin® is the only patented Sceletium in the world and the only legal source of supply, making it extremely difficult to obtain," says Healthy Directions CEO Connie Hallquist. "That's why I'm delighted that Healthy Directions and Dr. Williams are able to offer ZemBright Mood™, and provide a safe, effective way for people to manage their stress, naturally boost their mood, and improve their concentration and motivation all at the same time."
About Healthy Directions
Healthy Directions, LLC, a leading health publisher and direct-to-consumer retailer of doctor-formulated nutritional supplements and skincare products, is dedicated to helping people lead healthier, happier lives. Healthy Directions provides expert guidance and advanced nutritional supplements from America's most knowledgeable and highly respected integrative and alternative health doctors including Julian Whitaker, MD, Dr. David Williams, Stephen Sinatra, MD, Susan Lark, MD, Aaron Tabor, MD, and Richard Wurtman, MD.