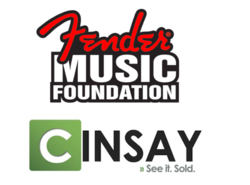 "We are grateful to Cinsay for bringing awareness and their new technology to supporting music education and the many benefits it brings to people of all ages", The Fender Music Foundation
Austin, TX (PRWEB) March 07, 2013
Cinsay and the Recording Artists Guilds' live music event (R2RLIVE.com) hosted during the South By Southwest Music Festival has added The Fender Music Foundation to the charities being promoted and supported at the March 16th event at Brush Square Park in Austin, Texas. Cinsay is making a cash donation as well as creating a featured Smart Store™ video where viewers can learn about the charity, purchase exclusive memorabilia and be able to donate directly to the foundation.
"The core of our mission is to provide musical instruments to music education programs across the country. As a public charity, we do this through grassroots efforts, which have gotten us to where we are today -- having reached over 190,000 people," said Moriah Scoble, Executive Director for The Fender Music Foundation. "We are grateful to Cinsay for bringing awareness and their new technology to supporting music education and the many benefits it brings to people of all ages," she added.
Along with Fender, the program is also supporting Austin's Meals On Wheels and More. As for the event's entertainment, the Master of Ceremonies is Sean 'Diddy' Combs. The musical line up includes Eminem produced singer, Skylar Grey, Neo Geo, jazz and blues hit, Larry Gee, and pop sensation, Forever The Sickest Kids (FTSK), and hip-hop icon, Warren G.
The event will be hosted live and online utilizing Cinsay's patented Smart Store™ technology enabling viewers the opportunity to shop for hundreds of unique and branded items while watching the live webcast and being able to share it all over the world.
The 'Rags 2 Riches' event is open to credentialed SXSW ticket holders and the press. Gates open at 1:00 PM CST at the Brush Square Park venue in downtown Austin. Performances also begin at 1:00 PM and end at around 8:00 PM. Over 12 musical artists will perform sets during the live video stream. The event will feature special guests, DJs, SXSW celebrity interviews from 2013 film and interactive sessions and the Cinsay RAGs 2 Riches music contest.
Registration to attend the event and watch online is open at R2RLive.com. Follow news and updates about the event by registering at the R2RLIVE page and via Twitter hashtag #R2RLIVE.
WHAT: Cinsay/RAG: Rags 2 Riches Live Music Event
WHERE: Brush Square Park, 409 E. 5th Street, Austin, Texas 78701
WHEN: March 16, 2013 @ SXSW – 1:00 PM – 8:00 PM CST.
COST: Free to credentialed SXSW badge holders, invited guests and music wristband holders.
ONLINE: http://www.R2RLive.com