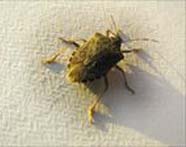 The Department of Agriculture and Virginia Tech research is showing that the population of stink bugs is set to explode in 2013.
Washington, D.C. (PRWEB) March 08, 2013
Leading Maryland, Virginia and District of Columbia pest control company Affordable Pest, LLC, issues a warning to consumers to prepare for larger brown marmorated stink bug populations in the coming spring.
"The Department of Agriculture and Virginia Tech research is showing that the population of stink bugs is set to explode in 2013 and could be nearly six times as large as it was in 2012. Unfortunately, the damage to gardens and crops may be severe this year because of the sheer projected size of the stink bug population on the East Coast," says Affordable Pest founder Jason Fields. "Fortunately and unlike last year, we have some newer tools to fight this pest such as pheromone traps and EPA approved sprays."
The best way for a home owner to control stink bug populations is though exclusion and a professional pest control company such as Affordable Pest. A professional pest control company will seal cracks around windows, doors, siding and other openings in a building to prevent a stink bug infestations. They will also use EPA approved sprays to kill the noxious bugs. For smaller populations of stink bugs, home owners can use a common vacuum to suction the pests away though homeowners should immediately dispose of the vacuum bags to contain the noxious odors from the pests.
The brown marmorated stink bug (Halyomorpha halys) is originally from Asia but has established itself in 29 states including Maryland, Virginia and the District of Columbia – Affordable Pest's service area. The bug, originally from Asia and known for its noxious odor that is reminiscent of burning rubber, poses a serious threat to both agriculture and consumers. It feeds on a wide variety of plants apples and peaches to tomatoes, peppers and corn. Most Virginia, Maryland and DC residents come into contact with the brown marmorated stink bug during the fall and spring when it overwinters inside their homes or emerges in the spring. Slight disturbances to the bug cause it to release its foul smell.
Like its other stink bug cousins, the brown marmorated stink bug is shaped like a shield and is approximately 5/8 inch long and is a molted brownish grey color. The eggs of the brown marmorated Stink Bug are often laid on the underside of leaves and a light green in color. They are elliptical in shape and are often deposited in a mass of approximately 28 eggs.
Consumers and business owners with questions or concerns about the brown marmorated stink bug can contact Affordable Pest at 1-855-737-8123 or visit http://www.AffordablePest.com.
About Affordable Pest:
For over a decade, Affordable Pest has been providing effective pest control services in Virginia, Maryland and the D.C. area. Specializing in bed bug removal, termite control, mosquito management, wildlife trapping, and a variety of other pest control services, Affordable Pest is a go-to for both residential and commercial settings. Founded by Jason Fields, the company is privately held and is headquartered in Northern Virginia. To see what Affordable Pest can do for you, visit http://www.AffordablePest.com or call 1-855-737-8123.