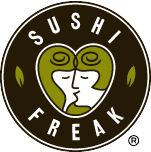 San Diego, California (PRWEB) March 11, 2013
Sushi Freak, a create-your-own sushi franchise, is expanding through all 50 states with the help of lead generation expert Franchise Clique and may be ruling into a city near you.
Sushi Freak, a restaurant franchise concept that allows customers to design their own sushi rolls, currently operates one location in San Diego, California with several more locations in development. Sushi Freak's founders are currently recruiting qualified franchisees for the franchise's national development plans.
Franchise Clique, a lead generation and advertising company that specializes in entrepreneur recruitment for the franchise industry, joined Sushi Freak's expansion efforts in March. Through a combination of lead generation, SEO, SEM and marketing techniques, Franchise Clique hopes to help Sushi Freak expand throughout the state of California and beyond.
"Sushi Freak is an ingenious concept. Despite sushi being so integrated into the American palate it remains very popular. Couple that with built-in customer satisfaction through customizable menu items and you have a winning franchise concept," says David Schwartz, chief executive officer of Franchise Clique.
Co-founders Michael Broder and Jenifer Duarte concocted the idea for Sushi Freak after previously working together at a restaurant with a 160-item sushi menu. Customers routinely requested changes to sushi rolls based on their unique tastes.
"After the millionth custom order a light bulb went off," explains Michael. "We realized customers wanted the ability to customize the contents of their sushi rolls without sacrificing the quality of a traditional sushi roll made by a true master sushi chef. With Sushi Freak you get the best of both worlds."
To learn more about Sushi Freak or to receive information on becoming a Sushi Freak franchisee please visit http://www.franchiseclique.com/franchise/Sushi-Freak.
About Franchise Clique
Franchise Clique, one of the nation's fastest growing Internet-based marketing companies, specializes in lead generation services and solutions for franchises and business opportunities. Founded in Charleston, S.C. in 2009, Franchise Clique has used its uniquely designed innovative technology in conjunction with its team's combined 20 years of experience to become one of the industry's highest-ranking lead generators. Franchise Clique enjoys a top rating from the Better Business Bureau and an association with the International Franchise Association. For more information, go to  http://www.franchiseclique.com, find us on Facebook at (http://www.facebook.com/franchiseclique), follow us on Twitter @FranchiseClique or call 877-252-2340.
About Sushi Freak
Be your own master sushi chef at Sushi Freak, the create-your-own sushi restaurant franchise. At each Sushi Freak location, customers may select their wrapper, pick their proteins, choose their fillings, toppings and sauces to create unique sushi masterpieces. Based in San Diego, Calif., Sushi Freak is currently expanding throughout all 50 states. Visit http://www.sushifreak.me for more information, menu items, locations and news. Find us on Facebook at http://www.facebook.com/ImASushiFreak, follow us on Twitter @SushiFreak or call 619-296-2500.