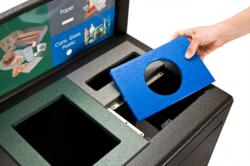 As the field of recycling continues to change, shouldn't the recycling containers be able to keep up?
Aurora, Ontario (PRWEB) March 12, 2013
When recycling programs were in their infancy there were countless collection streams that all varied by region. White paper had to be segregated from newspaper, colored glass couldn't be combined with clear glass. In some cases there were up to nine streams that were required to be collected separately. As Material Recovery Facilities (MRFs) evolved and commodity values changed, so did the method of collection. Nine streams were eventually boiled down to the, now fairly ubiquitous, two stream collection of waste and commingled recycling. This collection method was the norm for the better part of the early 21st century, but now, as facilities continue to evolve a new trend in the market of compostable packaging materials, cutlery and even bioplastics is emerging which has sparked the need for widespread compost collection. A greater demand for the collection of electronic waste has begun as it becomes more of a disposable commodity. As the field of recycling continues to change, shouldn't the recycling containers be able to keep up?
Transition® recycling and waste containers are CleanRiver®'s answer to the problem of continually changing recycling requirements. All Transition® containers are designed with Transition Ready™ adaptable opening plates, graphics and dividers which allow you to modify your collection in the field at a fraction of the cost of purchasing all-new recycling containers. The first Transition® products, the TPM and the TRH, were introduced two years ago as CleanRiver® celebrated 20 years in business and now it celebrates the expansion of the Transition® line, adding 6 new products, each with unique features that fill a need in the market.
Transition® TPM 45
Expanding on the success of the original TPM this enhanced, feature rich, version utilizes a drafted base and molded features. The TPM 45 is able to nest inside itself which makes for compact and economical shipping and storage. An injection molded rim insert adds unprecedented levels of flexibility when deciding on how best to "right size" the capacity of the streams in the bin.
Transition® TIM
Looking at the popularity of the classic Recycled Recycler™ Front Loading unit, a Transition Ready™ version was developed which comes in various capacities and can be configured in a single stream formation all the way up to 8 collection streams. A large integrated backboard with vibrant graphics helps to ensure clean streams.
Transition® TMF
CleanRiver® is pleased to announce a partnership with Frost™ Products Ltd. As well as offering a curated selection of their classic sanitation and architectural products CleanRiver® has cross-collaborated with Frost™ to introduce the Transition® TMF, a multi-stream recycling station constructed out of powder coated metal and featuring Transition Ready™ opening plates and dividers. The shallow design and wall mount option makes this an ideal collection station for hallways and compact spaces such as washrooms or meeting rooms as well as locations with fire code regulations. The optional backboard with color coded graphics helps to ensure clean streams.
Transition® TWZ
The Transition® TWZ combines all the Transition Ready™ features unique to the Transition® family of products with attractive materials and finishes found in high-end millwork cabinets. The Transition® TWZ comes in a variety of laminates to complement any decor and is well suited to offices, restaurants and public spaces such as lobbies.
Transition® TXZ
The Transition® TXZ combines the rugged durability of the classic Excel line of outdoor recycling stations with Transition Ready™ opening plates and dividers. The front openings and slanted roof keep the elements out of the bin and a high-visibility graphic banner keeps streams clean and separated. The Transition® TXZ is well suited for cafeteria and quick serve restaurant applications as it can be equipped with a removable tray holder.
Transition® TXS
The Transition® TXS offers post-and-strut durability and Transition Ready™ opening plates and dividers at a price point that makes implementing a recycling program quick and easy. Rest assured that the initial investment is protected by the future-ready features found in all Transition® products. The front openings and slanted roof keep the elements out of the bin and the included 16" x 25" poster provides huge opportunities for branding and communication.
The full line of Transition® recycling and waste containers were developed in close collaboration with customers and have undergone numerous field tests to ensure real-world success. Contact CleanRiver® now to learn more about how Transition® can guarantee that recycling programs are future ready.
CleanRiver® Recycling Solutions is proud to announce the launch of a brand new website!
CleanRiver.com - easy to navigate, fresh, and informative

Full listings of CleanRiver® products
Standard and custom graphic solutions
Comprehensive guides to setting up recycling programs
Recycling links and resources
Extensive recycling product gallery
About CleanRiver®
CleanRiver® Recycling Solutions, a division of Midpoint International, Inc., is a leading provider of recycling bins, recycling containers and recycling stations that are made from raw materials with the highest recycled content available. It also provides consulting services that support effective recycling and composting. It offers a wide range of standard products as well as design and engineering services to produce tailored waste stream management solutions. For more than 20 years, the company has supported the recycling initiatives and environmental stewardship efforts of schools and colleges, quick-serve restaurants, hospitality businesses, governments, military installations, and healthcare and office facilities in Canada and across the United States.
# # #