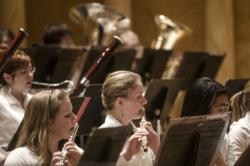 Toledo, OH (PRWEB) March 08, 2013
The Toledo Symphony Youth Orchestra, currently in its 63rd year, will perform its third concert Sunday, March 17th at 4PM in the Toledo Museum of Art Peristyle. This unique concert will feature the Philharmonic and Symphonic Orchestras in conjunction with the Toledo Symphony Orchestra, under the direction of Jeffrey Pollock, Ken Thompson, Wasim Hawary.
Also featured will be the winners of the Toledo Symphony Orchestra League Young Artist Competition. Isabel Kwon, cello, Valerie Peng, violin, and Zachary Brandon, violin, will perform concertos by Shostakovich, Glazunov, and Prokofiev.
The TSYO currently serves 200 students from over 40 schools in Northwest Ohio and Southeast Michigan. They will perform works by Holst, Mussorgsky, Brahms, and Dvorak. Tickets are $10 in advance and $15 at the door.
For more information, please call Bri Michalko, TSYO Coordinator, at 419-418-0050.