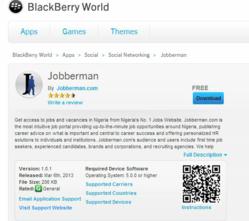 Lagos, Nigeria (PRWEB) March 08, 2013
Jobberman.com has launched its Blackberry application amidst huge rave reviews among early adopters.
The Blackberry application which is a version of the job portal on Blackberry enables users to view, search and apply for jobs on Jobberman.com from their Blackberry phones without having to go to the website itself.
Early adopters who participated in the soft launch have been giving rave reviews on the app, calling it the best mobile app in the country at the moment.
The App provides blackberry users a Jobberman platform; to keep the app users abreast with the latest jobs and with the ability to perform basic functions without having to go online.
The app also works like Blackberry messenger application updating itself and notifying users on an hourly basis (between 9am and 6pm) when there are fresh jobs.
The app can be downloaded at : http://goo.gl/ajIcu
In an interview with Opeyemi Awoyemi, CoFounder and SVP of Products at Jobberman, he stated that Jobberman is a lifestyle company using technology and harnessing the power of the internet to bridge the gap between job seekers and job opportunities in Nigeria.
The Job portal launched its Nokia mobile application early 2012, which has garnered thousands of downloads and is also featured on the Nokia Ovi Store.
Jobberman is the biggest jobs website in Africa, managing and delivering the largest catalogue of Jobs in Nigeria. The 3 year old jobs website has since its inception made a huge impact in Nigeria and Africa's job market.