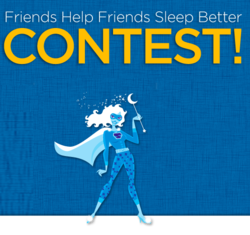 New York, NY (PRWEB) March 11, 2013
BedtimeNetwork.com is the only website dedicated to helping women and those they love make bedtime and sleep better, announces the first, "Friends Help Friends Sleep Better," campaign and giveaway contest. The benefits of a good night's sleep are recognized as an essential component of good health joining the likes of diet and exercise. A newly noted study by Surrey University underscores the importance of sleep calling it, "A Pillar of Health."
There are many among us who can't sleep. Bedtime Network's noted sleep experts provide regular features on bedtime nutrition, mind and body, sex, relationships, interior design, dreams, beauty and children's sleep. To celebrate National Sleep Awareness Week and Wellness Week (March 11th through 17th), Bedtime Network is giving away some great prizes just for signing up.
Grand Prize
The grand prize is a personalized consultation with each of the six following experts:
Gayle Reichler, nutritionist and author of "Active Wellness"
Elisabeth Halfpapp, Co-founder Exhale Spa and Core Fusion
Lauri Loewenberg, dream analyst
Nyiri Grigorian, therapist and relationship expert
Miriam Baker, sex therapist
Brooke Nalle, children's sleep coach
Other Prizes
Three First Prize winners will receive a Bedtime Beats® iHome and clock radio and five Second Prize winners will receive the award-winning Bedtime Beats® music collection and bedphones, headphones designed especially for sleep.
BedtimeNetwork.com is the realization of a dream between "First Ladies of Sleep," Cindy Bressler and Lisa Mercurio, former senior entertainment executives (PolyGram/Universal Music/ABC Disney) and developers of the award-winning, musical sleep solution, "Bedtime Beats® – The Secret to Sleep®," (Daily Candy's Sweetest Sound Award 2007).
When asked why they created Bedtime Network they said, "Virtually everyone knows somebody who just can't sleep. We want to be here for them. Our philosophy is simple: the secret to a good night's sleep lies in what you do at bedtime. Bedtime Network is here to help people create a bedtime ritual that works for them."
Anyone is welcome to promote and share this giveaway contest as well with this link: http://www.rafflecopter.com/rafl/share-code/N2IzMDAwNDZmMjMzZGEwZTA3Y2VmNTA1N2MxZmJjOjE=/
For further information, contact:
sleepypeeps(at)bedtimenetwork(dot)com or (914) 238 8000.