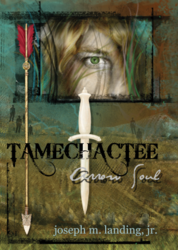 Teen author Joseph M. Landing Jr., a high school junior at Wando High School in Mt. Pleasant, S.C., was awarded "Finalist" in the category of Fiction – Fantasy for his debut novel 'Tamechactee – Arrow Soul.'
Los Angeles, CA (PRWEB) March 07, 2013
USABookNews.com, the premier online magazine and review website for mainstream and independent publishing houses, announced the winners and finalists of the 2012 USA Best Book Awards on Nov. 16, 2012. More than 400 winners and finalists were announced in more than 100 categories covering print, e-books and audio books. Awards were presented for titles published in 2011 and 2012.
Jeffrey Keen, President and CEO of USA Book News headquartered in Los Angeles, said this year's contest yielded more than 1,500 entries from mainstream and independent publishers, which were then narrowed down to more than 400 winners and finalists.
Teen author Joseph M. Landing Jr., a high school junior from South Carolina, was awarded "Finalist" in the category of "Fiction – Fantasy" for his debut novel "Tamechactee – Arrow Soul." This story is truly a tale of triumph over tragedy and the strength of the human spirit against all odds. Marcus Riehl is an 18- year-old living in the mountains of North Carolina whose parents were killed in a tragic accident when he was a young boy. Forced to live with his uncle who turns out to be abusive and an alcoholic, Marcus yearns to break free of the miserable "cycle" of his life. After getting in trouble for fighting in school, he finally strikes out on his own and quickly discovers that destiny has a plan for him and greatness is an understatement.
An ancient legend passed down through a Native American tribe tells of one called the Tamechactee or Arrow Soul who will emerge as a great leader and even a "savior," just in time before the world faces a major cataclysmic event. Taught to shoot a bow and arrow, Marcus demonstrates incredible skill during his first lesson. Could he be the Tamechactee? Meanwhile, a sinister being over in Normandy, France known only as "The Maker" has a plan to set off nuclear bombs throughout the world, not to kill everyone but to bring humans into submission. What is his real purpose, and can anyone save humanity from this demonic fiend?
"Tamechactee – Arrow Soul" received a five-star rating earlier in the year from Reader's Favorite, another online book services company. The book is available in hardcover, paperback and ebook versions through all major online distributors or through the website at http://www.tamechactee.com. Copies are also sold in local stores.
For additional information, please visit http://www.tamechactee.com.
Tamechactee : Arrow Soul
Joseph M. Landing Jr.
Dog Ear Publishing
Paperback ISBN: 978-1-4575-1107-3 392 pages $16.99 US
Hardcover ISBN: 978-1-4575-0879-0 392 pages $24.99 US
Available at Ingram, Amazon.com, Barnes & Noble and fine bookstores everywhere.
About Dog Ear Publishing, LLC
Dog Ear Publishing offers completely customized self-publishing services for independent authors. We provide cost-effective, fast, and highly profitable services to publish and distribute independently published books. Our book publishing and distribution services reach worldwide. Dog Ear authors retain all rights and complete creative control throughout the entire self-publishing process. Self-publishing services are available globally at http://www.dogearpublishing.net
and from our offices in Indianapolis.
Dog Ear Publishing – self-publishing that actually makes sense.