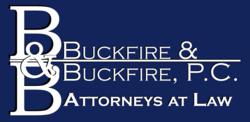 Our top rated Michigan brain injury lawyers are in support of the BIAA National Brain Injury Awareness Month Campaign. It is important that the public is aware of the seriousness of these injuries as well as show support to survivors and their families.
Southfield, Michigan (PRWEB) March 08, 2013
The Brain Injury Association of America (BIAA) and its network of state affiliates is launching a year-long, nationwide, education and advocacy campaign in recognition of March being Brain Injury Awareness Month. The goal of the campaign is to build public awareness regarding brain injuries and strives to change the public's attitude about brain injury victims. The Michigan brain injury attorneys of Buckfire & Buckfire, P.C. are proud members of the Brain Injury Association of Michigan. The Southfield law firm represents brain injury victims and closed head injury victims in all types of accidents, including car accidents, motorcycle accidents, bicycle accidents, sport-related accidents, and more.
A traumatic brain injury (TBI) is defined as a blow, jolt or bump to the head or a penetrating head injury that disrupts the normal function of the brain, often times not allowing an individual to perform every day functions. A brain injury is a very serious injury and can result from several different types of accidents. Some of the most common accidents that result in a TBI or closed head injury include:

Slip and Fall Accidents (35%)
Car Accidents (17%)
Work Related Accidents (16%)
Sport-Related or Recreational Accidents
Other Personal Injury Accidents, such as bicycle accidents
According to recent statistics provided by the BIAA, a TBI is a contributing factor to a third (30.5%) of all injury-related deaths in the United States. 1.7 million people, including 475,000 children, sustain a traumatic brain injury in the United States each year. As a result of this serious injury, 52,000 people will die, 275,000 people will be hospitalized, and 1.365 million people will be treated in an emergency department and released.
"At the law firm of Buckfire & Buckfire, P.C. our top rated personal injury attorneys are proud members of the BIA of Michigan. We are very supportive of this campaign and seeing these statistics proves how important public awareness is, as well as the support to the survivors and their families," says Partner and Trial Attorney Lawrence Buckfire.
To learn more about the campaign initiatives or to how to get involved in advocacy events taking place in the State of Michigan during the month of March and throughout the year, contact the BIA of Michigan toll free at 800-444-6443.
About Buckfire & Buckfire, P.C.
Buckfire & Buckfire, P.C. is a Michigan personal injury law firm representing traumatic brain injury victims in mild, moderate, and severe brain injury and closed head injury accident cases. It can be devastating to the survivor and their family when an individual suffers from such an injury in an accident. The top rated attorneys have significant experience in these types of cases and know how to discredit the insurance company lawyers when insurance benefits to survivors are terminated. For more information about the award winning law firm of Buckfire & Buckfire, P.C. and how they have successfully represented accident victims suffering from traumatic brain injuries call toll-free at (800) 606-1717 or visit the law firm website at http://www.BuckfireLaw.com.