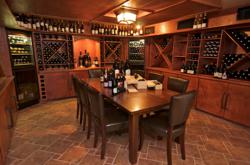 Thank you SoMuchSavings and "Porto Vivo" for allowing us to attend the "Producer Dinner". We had a wonderful experience.

"PZ Cuisine"
(PRWEB) March 11, 2013
HOW TO FUNDRAISE FOR CHARITIES & PROJECTS WHILE EATING FOOD:
Every so often we have a dining experience that is unique to others. Most of the time, it's unique because of the introduction to a new "flavor feast", but some of the time, it is the result of something much more grand than just tasty food.
Our recent experience at the SoMuchSavings.com "Producer Dinner" falls into the category of "something much more grand" from two different perspectives: 1) The purpose of the Dinner -"How to Fundraise" 2) The restaurant selected for culinary pleasure.
We are pleased to report that we were not disappointed on both fronts. As a result, "Porto Vivo" has earned our "Fantastic LI Restaurant Experience" designation and SoMuchSavings has earned our sincere respect as an organization that gives back to those in need.
"PORTO VIVO" RESTAURANT REVIEW:
Eating great food is wonderful. Eating great food in a nice environment is fantastic. Eating great food in a nice environment, served by people with sincere customer focused attention, is unusual. We experienced the unusual at the Porto Vivo "Producer Dinner" of SoMuchSavings.com.
For those New York and Long Island "Foodies" looking for a tastefully unique culinary and service experience, treat yourself and friends to a Porto Vivo "Wine Cellar Gathering".
Patrons will be treated as private house guests of Porto Vivo inside the Wine Cellar (the type of guest that may get to try something the chef's been working on in private…shhh!).
Their menu is diverse, chef's culinary skills professional, and their commitment to your "taste-bud" enjoyment, not questioned. "Porto Vivo" has earned the designation of a PZ Cuisine "Fantastic LI Restaurant Experience" establishment.
SOMUCHSAVINGS "PRODUCER DINNER" DETAILS:
Dates and Locations:
Dinners are held at restaurant locations around the Country on the 2nd Thursday of each Quarter.
What Does The Dinner Produce?:
1) Donations to 501c'3, Non-Profits and Unique Projects
2) Creative solutions to the problem of "How to Fundraise" in today's world.
3) Trusted relationships and financial support of local businesses and communities.
Who Can Attend?:
Individuals that would like to introduce 501c3's, Non-Profits and Unique Projects to SoMuchSavings.com for financial assistance. If interested in participating, please contact:
Restaurant Submissions: rnorman(at)somuchsavings(dot)com
Dinner Attendance: rnorman(at)somuchsavings(dot)com
Charity and Project Submissions: dcapo(at)somuchsavings(dot)com
"Producer Dinner" Donation:
All attendees must donate at least $20 to the Dinner Donation "Bucket". The Dinner Host is responsible for selecting a small unique charity or project to be the beneficiary of the "Producer Dinner" donation.
Dinner "Set Up" Guidelines:
Dinner Host Volunteer: Responsible for selecting the restaurant and setting up the Dinner. Dinner attendees will expect to experience Dining from the perspective of those that know best – the owners, chef, and service teams of the restaurants being frequented.
Dinner Discussion and Socializing:
Dinner discussion focuses on philanthropy and coming up with creative solutions to philanthropic problems - "Philanthropic Networking" on how to fundraise for those in need.
"PORTO VIVO" RESTAURANT HOURS
Monday: 5pm-10pm
Tuesday: 5pm-10pm
Wednesday: 5pm-10pm
Thursday: 5pm-10pm
Friday: 5pm-12am
Saturday: 5pm-12am
Sunday: 5pm-10pm
Sunday Brunch: 11am-3pm
Bar/Lounge Open
Every Day 4:30pm
Late Night Bar Menu Available
"PORTO VIVO" RESTAURANT LOCATION:
7 Gerard Street
Huntington, NY 11743
631-385-8486
Executive Chef – Joseph Balbo
Restaurateur – Joy Mangano
Media Relations: PZ Cuisine
PuZLink, LLC
New York – California