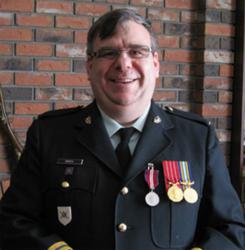 There is no greater satisfaction than seeing a person grow, gain knowledge and graduate.
Toronto, Ontario (PRWEB) March 12, 2013
Only 0.1% of the Canadian population is granted such an honour, and on February 22, 2013, Professor Richard Babich, CD, PMSC, C.E.T., MBA ITM, shook the hand of Jason Kenney, Minister of Citizenship, Immigration and Multiculturalism, and accepted the Queen Elizabeth II Diamond Jubilee Medal in recognition of his contribution to his community and to Canada. Professor Babich was one of nine recipients of the esteemed medal on that day, and enjoyed the breakfast ceremony at the Carriage House Inn in Calgary amidst friends and family.
Beginning with his first job with the Federal Government, Professor Babich has developed a unique perspective of Information Technology management through a career path that has spanned the private, public, government and military sectors of the industry. Always at the leading edge of innovation, the Canadian Forces nominated Professor Babich for the Government in Technology Award in 2003.
In addition to working in Telecommunications Management, he has been involved in the development of IT curriculum throughout his career. He has been a member of the faculty at institutions such as Phoenix University, the University of Calgary Business Continuation Education and Meritus University.
An instructor at heart, he finds "there is no greater satisfaction than seeing a person grow, gain knowledge and graduate. When a student walks across the stage at graduation a bit of me walks across the stage with them." His passion for postgraduate studies is reflected in the breadth of institutions that benefit from his tenure, and his collection of acknowledgements. Professor Babich is the recipient of the Canadian Decoration, the Alberta Centennial Medal, was inducted into the International Honour Society in Business for having a 4.0 average on his PhD studies, and has been inducted into the Golden Key International Honour Society.
After the celebratory breakfast with Minister Kenney, Professor Babich retired home to finish grading his student's papers. He will continue to contribute his expertise at the post-secondary level. We would like to congratulate Professor Babich on being awarded the Queen Elizabeth II Diamond Jubilee Medal. He is a valued member of the Bachelor of Business Administration faculty at Yorkville University.
Yorkville University is a Canadian national university dedicated to providing accessible professional degree, diploma and certificate programs leading to professional careers.
Julie Dutton
Marketing Communications Specialist
905-669-0550 ext 1251
jdutton(at)yorkvilleu(dot)ca
Yorkville University
1149 Smythe St
Fredericton NB E3B 3H4