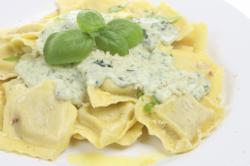 Better outcomes result from a better vocabulary.
White Marsh, MD. (PRWEB) March 08, 2013
Leveraging the power of a more precise lexicon of descriptive terms and a methodology for planning food texture, TIC Gums will show how manufacturers can lower their costs on expensive ingredients (in this case cream and milk in cheese sauces) without sacrificing taste at the "Research Chefs Association Annual Conference and Culinology Expo." The conference and expo will occur at the Charlotte Convention Center in Charlotte, North Carolina.
Because of the fat content, milk and cream contribute "mouth coating" to both of the cheese sauces. Substituting any significant percentage of these with water alone would make them seem "thin" and "watery," clearing the palate quickly yielding a less satisfying experience. Combining the water with gums systems like these, preserves the texture of cream and milk and reduces the amounts of these more costly ingredients needed. Consumers have the same positive eating experience and are not charged the higher price that would have been charged had gums not been substituted.
The percentage of water added with the gums is the percentage of cream and milk saved in the cheese sauces. Of course, savings will vary depending on individual recipes and sizes. But the uniform distribution of water and use of gums prevented the sauces from being "weak" or losing their appeal.
Ticaloid® Ultrasmooth and Ticaloid® Saucier were used to make two different cheese sauces. Ticaloid® Saucier was specifically designed to stabilize and enhance a variety of sauce-type applications. Ticaloid Saucier provides excellent emulsification, thickening, and suspension characteristics while also adding cling. Ticaloid® Ultrasmooth economically provides suspension and thickening to sauces of all types. Ticalose® CMC 15000 was used to make the ravioli filling. Ticalose CMC 15000 is a high-viscosity CMC that has been specially processed to be resistant to such influences as salt and low pH. It also withstands extreme processing conditions such as heat and pressure. Hydrocolloids also manage the water and keep it from coalescing and forming large ice crystals, which take away from the perceived quality of these cheese sauces when they are frozen and stored.
Lower Costs Possible
By first articulating the desired textures in these three products, food developers at TIC Gums were able to choose blends of gums that would accomplish what was needed, shortening the development time. Gums and gum systems allow for the uniform management of moisture in food. With the successful use of these hydrocolloids, fewer, more expensive ingredients were needed to achieve the same flavor, taste and overall eating experience. Innovations in food science like these from TIC Gums help attract the top research and development food professionals to the RCA expo every year. The power of language led to these creative solutions. The true importance of texture is frequently overlooked in the early stages of food product development. While everyone experiences food and beverages uniquely, agreement on how to designate texture and the mechanics of food and beverages was new. A lexicon of terms that describe the desired textures in food from first observation through swallowing was used to design the texture of these three new recipes.
Better Language Leads to Better Outcomes
The Texture Lexicon™ from TIC Gums allows food developers to give voice to the previously indescribable qualities of consumption not directly associated with flavor, but impactful nonetheless. It is a systematic approach to achieving target texture that works well out in front of consumer sensory evaluations…and one that uses language precise enough to be relevant in a product development.
The Texture Revolution is a tool that allows developers to plan and manipulate food textures to improve consumer acceptance. The lexicon includes a far more powerful vocabulary for describing the textural attributes desired in new or reformulated food products. The lexicon is extensive and addresses important texture issues through the whole sensory experience with a food product, from the first look through swallowing.
About TIC Gums
TIC Gums is a global leader in advanced texture and stabilization solutions for the food industry. Food and beverage companies rely on TIC Gums to improve the texture, stability, consistency, nutritional profile, and shelf appeal of their products. Legendary customer service, high quality standards, and the unrivaled knowledge of our Gum Gurus® have made TIC Gums the industry leader for more than 100 years.
###