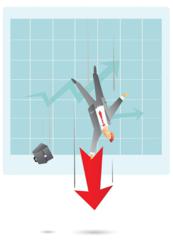 Druckenmiller predicts... a crisis worse than the financial meltdown of 2008.
Toms River, NJ (PRWEB) March 12, 2013
In a sobering recent interview, former hedge fund manager Stan Druckenmiller predicted that unsustainable spending will eventually result in a crisis worse than the financial meltdown of 2008. Some of the reasons given were government spending and obligations to the elderly, and too much leverage and debt. "One reason Wall Street, Washington, and the American public should listen to Druckenmiller is that he forecasted the recent real estate crisis as early as 2005," comments Brian Solik, President of Wealth Preservation Strategies of NJ, a financial firm focused on helping clients protect their assets from areas like taxation and stock market volatility.
"Another reason people should pay attention to Druckenmiller is that he is no longer working on Wall Street and can speak freely," adds Solik, who has written previously about the difficulty of Wall Street spokespersons being objective, given the fact that financial firms clearly want their clients to stay invested. For example, David Rosenberg, chief economist for Merrill Lynch for many years, was very bearish in his outlook in 2007-2008, for which he says he lost his job.
"Druckenmiller clearly is unafraid of going against the current bullish consensus, and he backs up his warnings with compelling data," says Solik. Recently, Mr. Solik released an article giving warnings to the American public about analysts bullish for 2013. Druckenmiller also isn't persuaded by the bullish consensus view. "I don't know the timing of when the markets will respond to this," he said, "but it will happen." The "it" he is referring to is a financial meltdown worse than 2008.
The financial firm Wealth Preservation Strategies of NJ recently released another article detailing how the fiscal cliff "solution" really doesn't solve America's financial problems. Like Druckenmiller, this firm sees through all of the positive hype about recent stock market returns and instead is warning Americans to consider other more conservative options with at least some of their assets.
Druckenmiller was right several years ago about the real estate crisis, but his views were ignored by most. If he and the financial firm Wealth Preservation Strategies of NJ are correct, the United States could experience another huge financial crisis. Americans should consider these views and not simply listen to the bullish consensus view that the United States and the stock market are back on their way to prosperity.
Brian Solik, CRPC is President and Founder of Wealth Preservations Strategies of NJ. He is a former Wall Street broker who now focuses on educating investors on how to maximize their financial security and minimize taxes. If you would like to read other related articles contact Brian at 732-415-7717, bsolik(at)brokersifs(dot)com, or visit his website.
Securities and investment advisory services offered through Brokers International Financial Services, LLC, Panora, Iowa. Member FINRA/SIPC. Brokers International Financial Services, LLC and Wealth Preservation Strategies of NJ are not affiliated companies. The opinions expressed are those of Brian Solik and not necessarily those of Brokers International Financial Services, LLC. Mr. Solik is registered to sell securities in CA, FL, NJ, NY, TX, & WI.