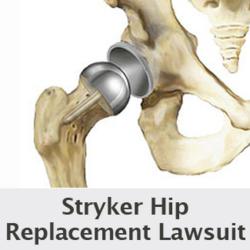 If you or someone you love were injured by Stryker Rejuvenate and ABG II Modular-Neck Hip replacement device, please visit yourlegalhelp.com, or call toll-FREE 1-800-399-0795
Columbus, OH (PRWEB) March 10, 2013
Wright & Schulte LLC, an experienced personal injury law firm, reports that at least 80 Stryker hip lawsuits filed in the wake of the Stryker Rejuvenate and ABG II hip stem recall are pending in New Jersey's Bergen County Superior Court. In January, the New Jersey Supreme Court granted a request by plaintiffs to consolidate all pending Stryker Rejuvenate and ABG II Modular-Neck Hip Replacement Stems lawsuits associated with the recall in a single proceeding in Bergen County.
[judiciary.state.nj.us/mass-tort/abgstryker/index.htm]
Wright & Schulte LLC is offering free defective medical device lawsuit consultations to individuals who suffered serious complications due to the recalled Stryker Rejuvenate and ABG II Modular-Neck Hip Stems, including:

Tissue death
Osteolysis
Damage to bone and tissue
Inflammation
Premature failure of the implant
Infection
Loosening of implant
Formation of pseudotumors
For more information on filing a Stryker hip replacement implant recall lawsuit, or to arrange for a free legal consultation, please visit yourlegalhelp.com
The Stryker hip implant recall was announced in July 2012, and involved some 20,000 metal components that had been sold since the Rejuvenate and ABG II hip came on the market in 2009. According to Stryker, Rejuvenate and ABG II hip stems are prone to fretting and corrosion at the modular neck junction. If this occurs, patients may experience pain, swelling, and adverse local tissue reactions. However, some Stryker hip recall patients have been found to have high levels of metal ions in their blood, even though they experienced no such symptoms.
[http://literature.ortho.stryker.com/files/REJUV_COM_23.pdf
According to a report by NorthJersey.com, plaintiffs with Stryker hip recall lawsuits pending in the New Jersey litigation allege the metal particles shed from malfunctioning Rejuvenate and ABGII hip stems caused them to experience muscle, nerve and bone damage. According to an attorney for some of the plaintiffs, many have undergone revision surgery to have their failing Stryker hip removed, while others will likely need revision surgery in the future. While Stryker's marketing materials promised the Rejuvenate and ABG II components would last for 20 years, most of the plaintiffs experienced failure within just a few years of implantation.
[northjersey.com/mahwah/Over_80_lawsuits_on_hip_implants_filed_against_Mahwah-based_Stryker_Orthopaedics_.html?c=y&page=1]
NorthJersey.com is also reporting that Stryker is reimbursing patients for some costs related to the Rejuvenate and ABG II recall. However, because any information disclosed in the process of filing a claim with the company could be used in future legal proceedings, Wright & Schulte LLC is recommending that those affected should seek the advice of an attorney before they discuss reimbursement with Stryker.
About Wright & Schulte LLC
Wright & Schulte LLC, a leading personal injury firm, is dedicated to the belief that America's legal system should work for the people. Every day, the attorneys of Wright Schulte LLC stand up for the rights of people who have been injured or wronged, and fight tirelessly to ensure that even the world's most powerful corporations take responsibility for their actions. If you're looking for a law firm that will guarantee the aggressive and personal representation you deserve, please do not hesitate to contact Wright & Schulte LLC today. Free Stryker Rejuvenate and ABG II Modular-Neck Hip Replacement Stems lawsuits case evaluations are available through yourlegalhelp.com, or call 1-888-365-2602.
Contact:
Wright Schulte LLC
812 East National Road
Vandalia, Ohio 45377
1-888-399-0795