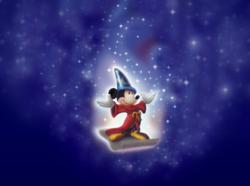 Baltimore, Md. (PRWEB) March 08, 2013
Cristian Macelaru leads the Baltimore Symphony Orchestra in a performance of the Disney classic animated tale Fantasia on Friday, April 5 at 7 p.m. and Saturday, April 6 at 3 p.m. at the Joseph Meyerhoff Symphony Hall. Relive the wonder of this Academy Award-winning film as it comes to life under the spell of the BSO. Please see below for complete program details.
In 1940, Walt Disney and his studio released their third film, Fantasia. The film was undeniably groundbreaking as it uniquely paired animation with symphonic music. While Fantasia initially met with mixed reviews, it won two Oscars in 1942 for "widening the scope of the motion picture as entertainment and as an art form," and stands today as one of Disney's most popular films.
Fantasia truly illustrates the best of Disney's talent and imagination as the screen dances with playful and striking visual delights that are accompanied by impressive stereophonic sound. The music that brings the characters to life includes classics from Tchaikovsky's The Nutcracker Suite to Dukas' The Sorcerer's Apprentice, originally performed for the film by Leopold Stokowski and The Philadelphia Orchestra. The real-life ambition and innovation poured into Fantasia has resulted in the creation of an enchanting world of animation and sound into which any listener can escape.
Cristian Macelaru, conductor
Cristian Macelaru has established an exciting and highly regarded presence through his thoughtful interpretations, poise and energetic conviction on the podium.
He began his work with the Philadelphia Orchestra in the 2010-11 season and, with the orchestra's vote in September 2011, was named Assistant Conductor. Recently, Mr. Macelaru received the 2012 Sir George Solti Emerging Conductor Award, a prestigious honor only awarded once before in the foundation's history. In February 2012, Mr. Macelaru made his Chicago Symphony subscription debut as a replacement for Pierre Boulez with overwhelming success and rave reviews. Mo. Macelaru's 2012-13 season brings highly anticipated debuts with Montréal's Orchestre Métropolitain, the Windsor Symphony and the Naples Philharmonic, as well as a return to the Baltimore Symphony.
As the Founder and Artistic Director of the Crisalis Music Project, Mr. Macelaru spearheaded a program in which young musicians perform in a variety of settings, side by side with established, renowned artists. Their groundbreaking first season produced and presented concerts featuring chamber ensembles, a chamber orchestra, a tango operetta, and collaborations with dancer Susana Collins, which resulted in a choreographed performance of Vivaldi/Piazzolla's Eight Seasons.
Mo. Macelaru has participated in the prestigious conducting programs of the Tanglewood Music Center and the Aspen Music Festival, studying under David Zinman, Murry Sidlin, Rafael Frühbeck de Burgos, Robert Spano, Oliver Knussen and Stefan Asbury. His main studies were with renowned teacher Larry Rachleff at Rice University, where he received his Master of Music degree in conducting. He completed undergraduate studies at the University of Miami.
Compelete Program Details
Friday, April 5, 2013 at 7 p.m. – Joseph Meyerhoff Symphony Hall (JMSH)
Saturday, April 6, 2013 at 3 p.m.—JMSH
Cristian Macelaru, conductor
Beethoven: Movements from Symphony Nos. 5 and 6
Tchaikovsky: The Nutcracker Suite
Debussy: Clair de Lune
Stravinsky: The Firebird Suite (1919 version)
Gershwin: Rhapsody in Blue
Dukas: The Sorcerer's Apprentice
Elgar: Pomp and Circumstance
Respighi: Pines of Rome
Tickets range from $17.50 to $45 and are available through the BSO Ticket Office, 410.783.8000 or BSOmusic.org.
###