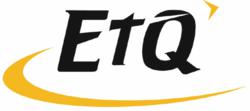 This summit has proven to be an excellent venue for Life Science professionals who wish to understand the latest market trends and research in quality and compliance within the Life Science industry
Farmingdale, NY (PRWEB) March 07, 2013
EtQ, Inc., is pleased to announce that on Tuesday, March 12th, it will be hosting its 4th Annual Life Science Summit at the Bridgewater Marriot in Bridgewater, NJ.
This summit is free to all attendees and will center on the theme of "The World of Quality and Global Supply Chain and the Importance of a Global Quality Management Solution." The summit will feature sessions led by industry experts, who will cover topics such as:

Best practices in creating a harmonized system
The role Enterprise Risk Management plays in compliance
How companies are integrating Risk into their Quality system
Influencing supply chain compliance
Real-world examples of Quality Management Systems for enterprises
"This summit has proven to be an excellent venue for Life Science professionals who wish to understand the latest market trends and research in quality and compliance within the Life Science industry," stated Glenn McCarty, Chief Executive Officer at EtQ. "Industry leaders will be lending their expertise on topics such as integration of risk and quality management, effective implementation of an eValidation program, and knowledge management in the quality system. We look forward to meeting with the Life Science community and in discussing the importance of a Global Quality Management Solution."
For more information or to register, visit us at http://www.etq.com/lifesciencesummit/.
About EtQ
EtQ is the leading FDA Compliance, Quality, EHS, and Operational Risk Management software provider for identifying, mitigating and preventing high-risk events through integration, automation and collaboration. Founded in 1992, EtQ has always had a unique knowledge of FDA Compliance, Quality, EHS, and Operational Risk processes, and strives to make overall quality operations and management systems better for businesses. EtQ is headquartered in Farmingdale, NY, with main offices located in EMEA, the UK, and Arizona. EtQ has been providing software solutions to a variety of markets for more than 20 years. For more information, please visit http://www.etq.com or contact us at 800-354-4476.
EtQ is a trademark of EtQ Management Consultants, Inc. All other product names and company names are trademarks or registered trademarks of their respective owners.