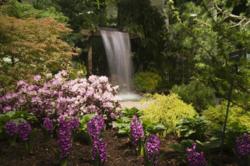 Boston, MA (PRWEB) March 07, 2013
Spring's most popular event, the Boston Flower & Garden Show, returns to the Seaport World Trade Center in Boston on Wednesday, March 13 through Sunday, March 17. Concern for the environment and enthusiasm for home veggie production have planted "Seeds of Change" in New England's gardens. This spectacular five-day event features over 20 gardens created by professional landscape designers, nurseries and historic properties embracing innovative new plants, materials and techniques that increase the beauty, bountiful harvest and ecological friendliness of gardens and outdoor spaces.
The 2013 Boston Flower & Garden Show will kick off Tuesday morning, March 12, with the "Hard Hat" Press Preview hours, where media can enjoy a sneak peak of this year's show and mingle with New England's top landscape designers and gardening experts as they place the finishing touches on their displays.
Set to the backdrop of spectacular garden displays by cutting-edge landscape professionals and area nurseries, visitors to the 2013 Boston Flower & Garden Show will also enjoy a wide variety of lectures and demonstrations by top garden writers, industry professionals and chefs, shopping from a wide marketplace featuring thousands of plants and hundreds of the newest gardening products, as well as chances to take home exciting giveaways!
To download the official media kit please see link below:
http://www.bostonflowershow.com/fp34/wp-content/uploads/2011/06/2013-BFGS-Media-Kit.pdf
Highlights Include:

Garden Marketplace: Hundreds of retail vendors feature thousands of plants, garden tools and furnishings, landscape services, botanical décor and floral themed gifts.
The Birds & the Bees: Experts will be demonstrating how to raise chickens and keep bees – two of the fastest growing environmental hobbies.
From Garden to Gourmet: Local chefs teach how to grow, use and preserve produce and herbs for year-round enjoyment and nutrition.
Floral Competitions: The annual tradition continues as the Garden Club Federation of Massachusetts and the Massachusetts Horticultural Society coordinate colorful competitions amongst the region's top amateur floral arrangers and horticulturists, all set to the show theme.
Ask the Experts: Master Gardeners will be on hand to help with vexing garden issues from soil typing to insect treatments.
Little Sprouts Kids Corner: Children's activities center on learning the importance of organic gardening.
The 2013 Boston Flower & Garden Show is sponsored by Subaru of New England and produced by Paragon Group of Needham, Massachusetts, an event marketer and producer of major events including the New England International Auto Show and the National Golf Expo Boston.
Where:

Seaport World Trade Center, 200 Seaport Boulevard, Boston
Dates & Hours:

Wednesday, March 13, 10:00 AM – 9:00 PM
Thursday, March 14, 10:00 AM – 9:00 PM
Friday, March 15, 10:00 AM – 9:00 PM
Saturday, March 16, 9:00 AM – 9:00 PM
Sunday, March 17, 9:00 AM – 6:00 PM
Admission:

Adults $20
Seniors (65+) $17
Children (6-17) $10
Children Under 6 Free
Group discount tickets are available for advance purchase in quantities of 20 or more. Please contact prose(at)paragonexpo(dot)com
Tickets are available at all Roche Brothers and Sudbury Farms Supermarkets and at http://www.bostonflowershow.com
For more information, please call the Paragon Group at (781) 237-5533 or visit http://www.bostonflowershow.com.
Contact: Maria Baez
Ebben Zall Group
(781) 449-3244
maria(at)ebbenzallgroup(dot)com