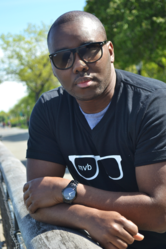 can our artist pay his bills and eat with his monthly royalty checks, yes...
New York, New York (PRWEB) March 12, 2013
If you ask Abdel 'Sosa' Russell about the current state of the music industry, his answer would make you want to start your own record label, or book studio time and chase your musical aspirations.
"Don't let them fool you, whether you're an indie record label, or an underground artist, this is the best time in the history of music, and the business of music, to be involved."
His opinion is surprising, and to the contrary of the opinions of established artists and major record labels. However, Sosa bases his opinion on two things; the reach and impact of social media, and the growth & evolution of digital music.
No one can deny the current role of social networks, or digital music vendors like iTunes, or Spotify, but when asked to be more specific on why he feels that this is the best time ever to be involved in music, he says this:
"Theres no denying the impact of the internet, and digital music. While It leveled the playing field for everybody to get in, it also let the flood gates open for everybody and their grandmother to get their music out-which isn't always good. So now theres more crap to filter through. But, what this era in music gives to those in the business that are paying attention, is the ability to build relationships with their fans. And if you're really good, your fans will find new fans for you. Its not so much about the music anymore, its about the brand. To give you an example of what I mean, I bought two copies of Nas' recent album Life Is Good. I bought the deluxe iTunes version, and the CD at Target. Did I need two copies of this album, no. But I spent my money on the music because I really like Nas. I think I like Nas the persona more than I like the music-and I love his music. I have a connection with my favorite artists. They connected with me before Facebook and Twitter, and now I'm a fan for life. The majority of music lovers, and fans today live online. Not many people watch TV or listen to Radio anymore to get their musical fix. So, for upcoming artists, its all about how you work your magic through social media, and then how you back it up with good music. Once a listener becomes a fan of your music, make them a believer of your story, after they become a believer, extend your brand through merchandise; become a part of their life. I say all of this with the assumption that the artist makes good music, and is not putting on a front. You have to be real. In todays world your entire history and credentials are online and can be looked up."
Sosa is currently putting this strategy to use with MVB RECORDS' underground Hip Hop recording artist RayBop; a 22 year old Hip Hop musician from Bronx, New York. RayBop is coming off a strong 2012. His music, worldwide, was played over 1.5 MILLION times last year, and he gained thousands of new fans off of one mixtape; the Cheeseburger Wallets EP. It's because of this why Sosa is partnering up with RayBop outside of the studio, into the world of merchandise.
When asked if this would interfere with the role of his record label, he says this: "No. Are we an independent record label, yes, can our artist pay his bills and eat with his monthly royalty checks, yes, BUT, in 2013, making money solely from music, as an artist, is stupid, especially if that artist is creative beyond the booth. I told RayBop that I'm going to make him rich one day, and I meant it. My job and the label's job is to help our artist/s make money from their music, and help them discover other revenue streams from their creativity. It's a partnership. If they win, we win, if we win, they win. That's how I see it."
MVB RECORDS released "The Genesis (Best of 2012)" by RayBop, today, March 12, 2013. It's a compilation album of RayBop's best selling and most popular songs of 2012. RayBop, through MyVisionBorn Clothing Co. will also launch several pieces of his CHG merchandise in April of 2013.
Sosa Twitter: http://twitter.com/SosaMVB
Sosa Instagram: http://instagram.com/SosaMVB
MVB RECORDS Twitter: http://twitter.com/mvbrecords
MVB RECORDS Facebook: http://facebook.com/mvbrecords