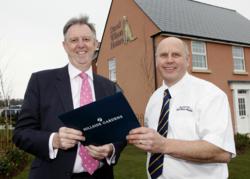 The good news for home buyers is that the mortgage market is now improving and we are expanding our business.
(PRWEB UK) 7 March 2013
In a major boost for the south west economy, seven new housing projects have been launched that will create around 600 new homes and sustain employment for around 1,000 people over the life of the developments.
The jobs boost comes with the arrival in Exeter of five star housebuilder David Wilson Homes, part of Barratt Developments PLC - the UK's number one housebuilder, which has identified the south west as a region for growth. News of the major new investment was confirmed by Barratt Group Chief Executive Mark Clare who was in Exeter to officially launch the first development – Hillside Gardens in Pinhoe.
Mark Clare commented: "The good news for home buyers is that the mortgage market is now improving and we are expanding our business - there is a chronic shortage of new-build homes, particularly detached family homes in Exeter. This has inspired the expansion of our David Wilson Homes brand into Exeter and the south west region. Just nine per cent of properties in Exeter are detached, and the David Wilson Homes brand is synonymous with spacious, highly specified, aspirational homes.
"The new investment we'll be making will create more than 600 homes in the south west in the next three years and this will support around 1,000 jobs, primarily in construction and sales during the life of the sites."
The majority of the new jobs created are expected to be filled by local people with the construction projects set to benefit a wide range of local sub-contractors, supply chain and provide valuable apprenticeship opportunities. The Government believes that one of the most effective ways of boost growth is through house building.
Four of the new developments will be in Exeter with others in Plymouth, Newton Abbot and Ivybridge set to be launched in the next few months. These are all areas where David Wilson Homes has identified increasing demand for the high quality family homes it creates.
David Wilson Homes Exeter managing director Tim Larner said: 'Exeter in particular has high levels of pent up demand for family homes but we are now seeing demand rising across Devon and Cornwall. Customers have been locked out of the market by the need for a huge deposit and it's great news that this is finally changing. Customer interest is the strongest I've seen for five years.
"There has been very little built in the last few years and our research shows that people want to live within easy reach of the city centre and all of its amenities but still have good access to the motorway and major transport links. Pinhoe is an outstanding site and the number of people queuing to see the homes on launch day exceeded all of our expectations and we could barely cope with the level of demand.''
ENDS
The new developments are
Hillside Gardens, Pinhoe, Exeter – 154 homes
Rougemount Park, Hill Barton, Exeter – 133 homes
Earls Park, Exeter – 39 homes
Rydon Lawns, Exeter – 87 homes
Reflections, Plymouth – 54 homes
Darcombe Gardens, Newton Abbot – 52 homes
The Spires, Ermington – 32 homes