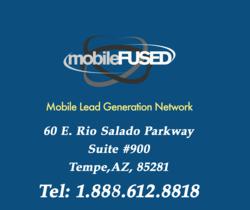 Advertisers quickly see the overwhelming ROI with each dollar they spend on every performance based mobile marketing campaign
Tempe, AZ (PRWEB) March 09, 2013
mobileFUSED to Attend LeadsCon Las Vegas 2013
mobileFUSED the Mobile Marketing leader, is excited about taking part at the much-anticipated LeadsCon Conference at The Mirage Hotel & Casino in Las Vegas on March 19-20, 2013. LeadsCon was founded in 2007 and demonstrates the best companies and people in engagement advertising and vertical media. At LeadsCon, mobileFUSED will join more than 5000 people who depend on LeadsCon for superlative intuitiveness and introduction to marketing leaders.
mobileFUSED has a rich history in the development of mobile marketing. Co-Founder of mobileFUSED, Elenburg, helped form the future of pay per call marketing. mobileFUSED has generated hundreds of thousands of calls each month via pay per call campaigns helping publishers become profitable to the tune of $100,000+ per month. The call to conversion rates are up above 30% with 95% of the business using mobile phones.
Much of mobileFUSED success is achieved by matching key advertisers with high quality, trained, expert publishers to acquire desired results. The advertisers quickly see the overwhelming ROI with each dollar they spend on every performance based mobile marketing campaign. mobileFUSED, in turn, measures their achievement by the publishers' and advertisers' success.
7 reasons why Companies are Turning to mobileFUSED for Lead Generation:

A Team that knows mobile marketing inside and out
Provides your company with the tools and ongoing assistance to ensure your success with lead generation
Helps you build relationships in order to grow campaign selections that will give you a variety of high converting offers
Provides you dedicated, experienced managers who truly care about your success
They stay on the cutting edge of what is working right now in Mobile advertising arena
Brings your business 40 years of combined experience in the Mobile Marketing space, the mobileFUSED team has run thousands and thousands of display and search campaigns.
Provides targeted leads and takes the time to fully understand your business and goals
The mobileFUSED team is very excited about sending Christine Kennedy, their Director of Business Development, to LeadsCon Las Vegas 2013 in March to work closely with you to help you create and run successful mobile marketing campaigns. She is looking forward to meeting with and learning about advertisers and other networks that are also attending.
Please visit us at mobileFUSED or call 888-612-8818 to meet with Christine during the LeadsCon conference.
mobileFUSED is always enthusiastic to talk with seasoned affiliates, advertisers or anyone that is looking to delve into the abundance of opportunity that mobile marketing can provide.