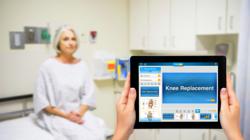 "At the end of the day, WelVU's goal is to make the patient engagement experience between provider and patient the most effective, empowering, and valuable aspect of the medical process for all involved." - Mark Friess, CEO
New Orleans, LA (PRWEB) March 08, 2013
WelVU Inc. announced from the HIMSS 2013 Conference the release of the WelVU Patient Engagement Platform, and the first products developed on that platform, WelVU, CardioVU, and OrthoVU.
The WelVU patient engagement products are currently available for use on the Apple iPad and enable healthcare professionals to enhance the educational experience for their patients by capturing images and audio from the provider-patient consultation to create a customized, patient-specific video of that communication which can be instantly shared via email with the patient through a HIPAA-compliant secure platform. The video can be viewed on any web or mobile device, and is stored securely for the patient on the WelVU Patient Portal for ongoing access and the ability to share that video with friends and family.
"With statistics showing that up to 80% of information shared by providers in the exam room or hospital room is forgotten, WelVU hopes to maximize provider time and patient health with solutions that help patients remember and utilize their provider's advice to be healthier and happier," said Mark Friess, Founder and CEO of WelVU. "We hope that organizations using the WelVU patient engagement products will see improvements in patient satisfaction, quality scores, readmission reduction, and health outcomes, while achieving key aspects of Stage 2 Meaningful Use." Friess continued, "At the end of the day, WelVU's goal is to make the patient engagement experience between provider and patient the most effective, empowering, and valuable aspect of the medical process for all involved."
The WelVU product suite is available for download to Apple iPad devices via the Apple App Store, with a version for Android devices under development. The flagship WelVU app is free, with three content topics from each of the Cardiology and Orthopaedic specialties, the ability to share up to ten videos with patients created from the application, and the option to upgrade to either CardioVU or OrthoVU. The CardioVU and OrthoVU apps each have a complete set of clinical topics for that specialty, unlimited sharing of videos created in the apps via email, and storage in the WelVU Patient Portal for secure access of the videos by patients and providers. With this suite of services, CardioVU and OrthoVU are currently available for a special introductory monthly subscription of $19.99, or annual subscription of $199.99, with no term of contract required.
The WelVU products can be downloaded from the Apple App Store here. More information on the WelVU Patient Engagement Platform, product suite, apps, and vision can be found at http://www.welvu.com.