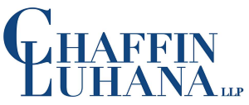 When people are injured through someone else's negligence or carelessness, they deserve not only the best legal representation, but a true helping hand in getting their lives put back together.
New York, NY (PRWEB) March 08, 2013
Chaffin Luhana LLP, a national plaintiffs-only law firm, announces the opening of its new office location in Weirton, West Virginia. Attorneys at the new location will represent clients in West Virginia, Eastern Ohio and Western Pennsylvania, including those injured by defective medical devices, pharmaceutical drugs, medical malpractice, asbestos-related diseases, and in automobile and other accidents. With a reputation for making sure clients have a strong voice in the legal system, the firm plans to deliver the best possible results for a broader range of clients in the tri-state area. The firm's offices will be located in a newly built state-of-the-art facility on Pennsylvania Avenue in Weirton Heights. "We are excited about expanding the geographic reach of our firm, adding to our top quality attorney and staff ranks and to be moving into a new building," said Partner Eric Chaffin.
Having established themselves as a top law plaintiffs firm in New York City and nationwide, representing high-profile cases in federal and state courts across the country, partners Eric Chaffin and Roopal Luhana are excited about expanding their services to what Eric considers his home town. Having grown up in the Ohio Valley just outside Weirton, where his father was a carpenter and steelworker and his mother a Bethany College graduate with a specialty in social work, Eric learned the importance of family, hard work, and compassion for others. Though he later went on to work with the U.S. Department of Justice in New York City, and then to open his own office with Roopal, his heart remained with the people of West Virginia.
"In 2006 while I was living in New York," Eric said, "my father was sick and dying from cancer. I was fortunate to spend a lot of time with him during those difficult days. I promised him that one day I would come back to West Virginia to represent the good people of the tri-state area. Now, after my training as a federal prosecutor, successful work on behalf of injured victims nationwide, and establishing what is now a nationally prominent law firm with a home office in New York City, Roopal and I are proudly opening an office in my hometown, Weirton, West Virginia, to serve the Ohio Valley."
Eric and Roopal are excited about bringing more of a personal touch to the new office, where Eric's mother, Carol Neeley, will serve as resident licensed social worker, and Robert Walker will bring key medical knowledge and experience to the firm. Patrick Booth, who left a large Pittsburgh law firm, will bring depth and experience in transportation litigation, an area of focus for the new office.
"Our clients love talking to her [Carol Neeley] and appreciate her attentiveness to their needs," Eric said of his mother, "as well as her firm grasp of the medical and billing issues that they and their families face after an accident."
Robert Walker has 18 years of clinical medical experience, is a registered nurse and a lawyer, and will make sure that Chaffin Luhana attorneys understand clients' injuries and how to maximize their recoveries. "You will find our people compassionate, caring, and highly skilled at what they do," Eric said.
Patrick Booth has extensive experience litigating transportation related accidents and catastrophes. "His experience matches our needs and he is an exceptional lawyer with core values that make him well-suited to represent injured victims. I am glad we could persuade him to join the Plaintiff's bar from the defense side. He will be a valuable asset to the firm and out clients in the tri-state area and nationwide," said Eric Chaffin.
"Opening this new office helps us to continue to stay true to our motto, which is 'doing good by doing right,'" Roopal said. "When people are injured through someone else's negligence or carelessness, they deserve not only the best legal representation, but a true helping hand in getting their lives put back together."
Chaffin Luhana LLP has a long and successful history of protecting the rights of injured persons and their families. To date, Eric Chaffin and Roopal Luhana along with co-counsel have been involved in recovering over $1 Billion for injured consumers and the firm has recovered over $100 million for its clients in the past three years. Both Eric and Roopal have been named to the prestigious New York Metro Super Lawyers list, and though unable to guarantee results, the firm has a distinguished track record of success and is highly committed to each case.
If you or a loved one has suffered an injury, contact Chaffin Luhana LLP for a free and confidential case review at 1-888-316-2311, or visit the firm's website at http://www.chaffinluhana.com or its West Virginia website at http://www.OhioValleyPILawyers.com.
CONTACT
Eric T. Chaffin, Esq.
CHAFFIN LUHANA LLP
3054 Pennsylvania Ave.
Weirton, WV 26062
Toll Free Telephone: (888) 316-2311
Toll Free Fax: (888) 317-2311
Attorney Advertising. Prior results do not guarantee or predict a similar outcome with respect to any future matter.