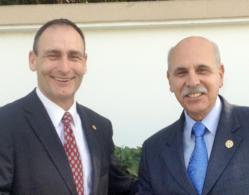 In serving the public sector, protecting the infrastructure... was a top priority. Now I'm transferring that experience to the private sector.
Raleigh, NC (PRWEB) March 11, 2013
On March 1, former Broward County Sheriff Al Lamberti joined Sunstates Security as a senior consultant. After 35 years of public service in an agency that managed law enforcement, fire rescue, security and corrections, Lamberti offers private-sector clients an integrated approach to security challenges.
"Right now, homeland security is front and center," says Lamberti, who managed 6,300 employees and a $725 million budget as sheriff. "In serving the public sector, protecting the infrastructure—specifically, energy companies, seaports and airports—was a top priority. Now I'm transferring that experience to the private sector."
Lamberti's focus on larger security issues led him to Sunstates Security, headquartered in Raleigh, N.C., with an extensive presence in Florida and several other states. Founder and President Glenn Burrell not only shared Lamberti's extensive law-enforcement background, having served in Scotland Yard for 20 years, but the company also emphasized a strategic approach to national security, including special challenges facing ports, residential communities, schools and faith-based organizations.
As sheriff, Lamberti oversaw security for Port Everglades, the second largest seaport on the Eastern seaboard and the only one that handles cargo, passengers and fuel—in addition to housing an electric power plant and a convention center. "Each one of those entities provides a security challenge individually," he says. "When you put them all together, it's a unique challenge."
Lamberti successfully met that challenge by developing close partnerships with the private sector. The need for such cooperation has increased in recent years as public budgets have dwindled, while demand for services has gone up.
"We need to be able to fill in the gap, and Sunstates is well positioned to do so," says Lamberti. "The company has a vibrant presence in South Florida—energetic, enthusiastic and committed to providing the best possible service."
This focus on service quality is especially important as the area gains prominence as a global gateway. "The corporate world is expanding in South Florida, and the international presence continues to grow," says Lamberti. "International development and construction are on the rise. This presents special security challenges, which Sunstates is well positioned to handle."
About Sunstates Security
Based in Raleigh, N.C., Sunstates Security provides uniformed security personnel and security consulting services to clients throughout the Southeast, as well as in the Northeast and Southwest regions. The company is certified as a Women's Business Enterprise by the Greater Business Women's Council, a regional certifying partner of the Women's Business Enterprise National Council (WBENC).