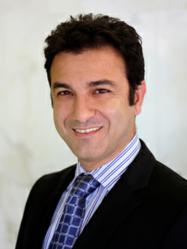 The SuperDoctors® nomination is a meaningful moment in any physician's career.
Beverly Hills, California (PRWEB) March 08, 2013
Eiman Firoozmand, MD, a Beverly Hills colorectal surgeon at La Peer Health systems, has been selected as one of Southern California's 2013 SuperDoctors®. This prestigious title marks the second in a row for Dr. Firoozmand and is an honor reserved for only 5 percent of all physicians in Southern California.
The SuperDoctors® designation is based on ten indicators of peer recognition and professional achievement, selected and voted on by fellow surgeons, physicians, and other medical professionals.
"The SuperDoctors® nomination is a meaningful moment in any physician's career," said Dr. Firoozmand. "It is truly an honor to be recognized by colleagues for my contribution to the medical profession."
The rigorous and comprehensive selection process for the SuperDoctors® title is aimed at identifying physicians who are leaders in their field and who have contributed enormously to the profession. Individuals are nominated based on "Star Search Credentials", such as research publications, professional activities, board certifications, and years of experience. Finally, a group of highly credentialed medical professionals selects the most exceptional candidates as SuperDoctors®.
After being selected for the first time back in 2012, Dr. Firoozmand is again featured as a Southern California SuperDoctor® in the January 2013 edition of Los Angeles Magazine. He is highlighted for his excellent reputation, patient satisfaction, and contribution to the field of colorectal surgery.
Dr. Eiman Firoozmand is a board-certified colorectal and general surgeon at La Peer Health Systems. He is one of the senior surgeons at Los Angeles Colon and Rectal Surgical Associates in Beverly Hills and former Chief of the Division of Colorectal Surgery at Cedars-Sinai Medical Center. After completing his medical education at the University of Southern California School of Medicine, Dr. Firoozmand went on to complete a surgical residency at Santa Barbara Cottage Hospital and a fellowship in Colon and Rectal Surgery at the Keck School of Medicine at USC.
Dr. Firoozmand is an expert in the use of minimally invasive laparoscopic surgery for the treatment of colorectal disorders, including colorectal cancer, inflammatory bowel disease, and benign anorectal disease. Additionally, he has expertise in the most advanced surgical techniques for the treatment of hemorrhoids. Throughout his medical career, Dr. Firoozmand has contributed to the field of colorectal surgery with original research. His articles have been published in prestigious journals such as the Journal of Trauma, Surgical Laparoscopy and Endoscopy, and The American Surgeon.
La Peer Health Systems is an outpatient surgery center in Beverly Hills, founded by doctors and focused on providing excellent patient care alongside the most cutting-edge medical treatments available. With 40 world-renowned physicians in 13 specialties, we offer comprehensive medical treatment that takes patients from consultation to diagnosis, treatment, surgery, and ultimately aftercare. Our 13 medical departments include orthopedics and sports medicine, gastroenterology, head and neck surgery, colorectal and general surgery, podiatry, ophthalmology, pain management, plastics and reconstructive surgery, gynecology, spine surgery, interventional cardiology, bariatric surgery, and anesthesiology. Unlike large hospitals, La Peer's unique structure offers extremely personal care in a safe and controlled environment.
More information about La Peer Health Systems can be found at http://www.LaPeerHealth.com.