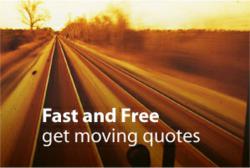 Move Network for all your Relocation needs
(PRWEB) March 07, 2013
Every year millions of people who are planning to move choose to hire a professional moving service to help with the stress and strain that moving can cause. Unfortunately for many individuals this decision can lead to a myriad of new problems including damaged goods, incomplete work and theft and the issue is becoming more prevalent every year.
move network is a website that is focused on connecting everyday people with dependable moving organizations. They recently developed an easy to navigate search feature that helps with this process by asking a few easy questions. They can then connect their clients with a network of experienced and applicable moving professionals tailor fitted for the customer's specific needs and desires.
According to MoveNetwork's website you can "get competitive quotes and MoveNetwork.com exclusive discounts on long distance or local rentals." You can also search by city, state or zip code with results showing the distance from where you are moving, special deals or offers, storage options and facilities. You can choose the areas and companies that most interest you and receive quotes for free.
In addition to a search feature for moving and storage quotes there is also a section for moving your vehicle found in the site's Auto Transport section. According to the site many people become confused as to their options when searching for auto transport, especially when moving out of state or to a far-away area. Regulations may vary for one area to another leaving a customer unsure of which company to choose.
MoveNetwork suggests that their clients have a clear idea of what their auto transport needs are before moving to help facilitate their move and they offer an easy to understand search option to help with this process.
Besides stateside moves and auto transport MoveNetwork recently announced an international moving section to their website. According to the site moving your entire household from one country to another introduces a whole host of problems that the average person might not have considered. International Moving is a rough business, which necessitates a professional even more so than with domestic moves. With MoveNetwork's search features you can find a company that best fits your international moving needs; you will be able to find companies that offer comprehensive insurance, the most up to date equipment and tools and high quality coordination and technology – all for the best prices on the market.
MoveNetwork.com is a free site for anyone who wants to compare the rates and services of professional moving services, auto transport companies and international moving organizations. They recently released a host of new features that allow their clients to find customer reviews, tips and tricks and comparison tools and anyone who is looking to move can benefit.
If you would like more information on MoveNetwork or the topic of moving in general you can visit their website at Move Network