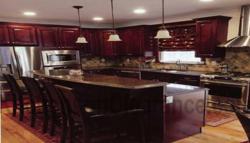 Miami, FL (PRWEB) March 08, 2013
A Miami-based retailer of kitchen cabinets and other kitchen remodeling supplies has been chosen to be a featured partner in South Florida on the hit A&E home remodeling show "Sell This House: Extreme."
Long-running, popular show airs on the A&E network and features home renovation and staging projects to help show participants sell their home in difficult markets. The show selected Kitchens on Clearance as the Miami provider of kitchen remodeling materials and services.
"We're excited to work with "Sell This House: Extreme," said a representative from Kitchens on Clearance. "We're known for not only our high-quality products, but also our dedication to giving customers the kitchen of their dreams quickly and efficiently, which is a model that works perfectly with the show."
Kitchens on Clearance was also selected because of their exceptionally quick delivery time and their featured products including ready-to-assemble, discount kitchen cabinets, all of which are high quality and solid wood. The company typically offers online-based remodels for customers from their site, KitchensOnClearance.com. Shipping and design services are available to customers throughout the United States, Canada and the islands, and the company is currently offering free shipping on orders over $2,500. The company is also unveiling a new policy that states that a representative will contact customers with further details including the design, layout and picture of what the kitchen will look like within 24 to 48 hours after any design inquiry is placed.
Kitchens on Clearance, in addition to offering speedy service on kitchen designs and remodels, and top-notch products at a discounted rate, is also working hard to help speed the housing recovery, and the site's spokesperson feels working with a high visibility show like "Sell This House: Extreme" will be the perfect opportunity to bring light to the recovery of the industry.
"We provide discounts and special offers because as a member of the housing and real estate industry, we realize how important a full recovery is," said the site's spokesperson. "With shows like "Sell This House: Extreme," consumers are more motivated to enter the housing market, and begin buying and selling, so we're excited to partner with the show to help in the housing recovery, that will benefit the entire country."