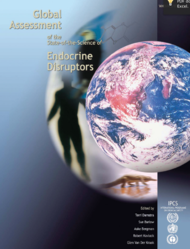 "The news on these chemicals is alarming but consumers can arm themselves with the information and choose pure, natural alternatives, like skin care from Route One Pumpkins" Sandra Klein
Half Moon Bay, CA (PRWEB) March 13, 2013
Endocrine disruptors are chemicals that may interfere with the body's hormonal balance and produce adverse developmental, reproductive, neurological, and immune effects in both humans and wildlife. A wide range of substances, both natural and man-made, are thought to cause endocrine disruption, including pharmaceuticals, dioxin and dioxin-like compounds, polychlorinated biphenyls, DDT and other pesticides, and plasticizers such as bisphenol A. The greatest concern related to the disturbance of hormonal balance is the early onset of cancers, especially breast and prostate.(1) In a 2012 publication by the National Institute of Environmental Health Studies, endocrine disruption has also recently been implicated in a study of Autism by interupting oxytocin and thyroid hormone signaling pathways. (2)
Recently, on February 19th 2013, an international team of experts in a joint effort by by the World Health Organization and the United Nations Environment Programme reported that evidence linking hormone-mimicking chemicals to human health problems has grown stronger over the past decade, becoming a global threat that should be addressed. The panel of 16 scientists from 10 nations found that endocrine-related diseases and disorders are on the rise, with emerging evidence for adverse reproductive outcomes and "mounting evidence" for effects on thyroids, brains and metabolism. The study concludes that chronic disease worldwide is higher than ever because of Endocrine Disrupting Chemicals.
"Frankly, for BPA, the science is done. Flame retardants, phthalates … the science is done," Professor R Thomas Zoeller of Umass, senior editor and senior writer for the paper said. "We have more than enough information on these chemicals to make the reasonable decision to ban, or at least take steps to limit exposure. They don't stay in the environment long but people are exposed to them all the time so it's the same effect..." (3)
Phthalates mimic hormones and have been linked to numerous health problems, but remain legal. On Feb 2, a study quoted by the Daily Green was released that linked baby powder, lotion and shampoo to higher levels of phthalates in babies' bodies. To avoid phthalates, look for products -like Route One Pumpkins - labeled phthalate-free or read labels for their chemical names, or abbreviations: DBP (di-n-butyl phthalate) and DEP (diethyl phthalate) are often found in personal care products, including nail polishes, deodorants, perfumes and cologne, aftershave lotions, shampoos, hair gels and hand lotions. DEHP (di-(2-ethylhexyl) phthalate or Bis (2-ethylhexyl) phthalate) is used in PVC plastics, including some medical devices.BzBP (benzylbutyl phthalate) is used in some flooring, car products and personal care products. DMP (dimethyl phthalate) is used in insect repellent and some plastics.
Phytoestrogen: soybeans are the most significant dietary source of isoflavones, an class of phytoestrogen. Consumption of soy food or phytoestrogen supplements has been frequently associated with beneficial health effects, however the potentially adverse effects on development, fertility, and the reproductive and endocrine systems are likely under-appreciated. Soy and soy-derived products contain isoflavones that mimic the actions of estrogens and may exert adverse effects on male fertility and studies have shown decreased sperm count in men eating higher quantities of soy in their diet. It is not known whether there is a difference between consumption of organic/non-GMO soy and the more dominant genetically-modified soy grown in the US and subjected to higher use of pesticides. Sensitive populations such as pregnant women should weigh consumption carefully to avoid endocrine disruption.
BPA stands for bisphenol A. BPA is an industrial chemical that has been used to make certain plastics and resins since the 1960s. In a February 2013 radio interview Director of the National Institute of Environmental Health Sciences, Linda S. Birnbaum, PhD discussed the status of the research and how BPA can seep into food or beverages from containers that are made with BPA or into your body when you handle products made with BPA. To avoid BPA, avoid plastics with the recycled symbol 7 on the bottom or select plastics labeled BPA-free, use glass or other materials to store and reheat food and "just say no" to receipts and thermal papers, which commonly have BPA that is absorbed through your skin (use email options at ATMs, for example). A new study quoted by Rodale (publisher of Prevention magazine) supporting that theory suggests that humans also absorb BPA through the skin even after handling cash-register receipts for just a few seconds. (4) (5)
One problem concerning those studying endocrine-disrupting chemicals is the vast number of them – about 800 are known – and how they may interact with one another. They're in a variety of goods – such as pesticides, flame retardants, plastics, cosmetics and canned foods – and research has only touched the "tip of the iceberg," according to the WHO report, stating that the vast majority of chemicals in current commercial use have not been tested at all. Several groups, including the National Institute of environmental health are working on testing methods. (6)
Route One Pumpkins products and packaging are free of phthalates, BPA, soy ingredients, petroleum products, parabens,, artificial colors and fragrances. Also vegan-free of animal products and not tested on animals. Certified by Leaping Bunny. Available at http://www.RouteOnePumpkins.com and quality natural retailers.
1. http://www.niehs.nih.gov/health/topics/agents/endocrine/index.cfm
2. http://www.niehs.nih.gov/news/newsletter/2012/2/science-armstrong/
3. http://www.who.int/ipcs/publications/new_issues/endocrine_disruptors/en/
4. http://www.rodale.com/bpa-receipts
5. http://radiomd.com/show/staying-well/item/9684-what-you-need-to-know-about-the-chemical-bpa
6. http://www.niehs.nih.gov/news/newsletter/2013/1/science-casey/index.htm