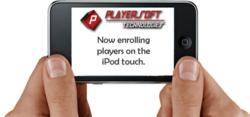 "Our suite of mobile products work in all phases of casino operations. From enrollment, group check-in and tracking."
San Diego, CA (PRWEB) March 07, 2013
Mobile Enrollment from Playersoft Technologies has been named as one of the Casino Journal's Top 20 Most Innovative Gaming Technology products companies for 2012 in a recent announcement by Casino Journal. Playersoft's Mobile Enrollment platform, which expedites player enrollment by scanning or swiping any US state drivers license, once again has been recognized by the gaming industry.
"We're obviously very pleased," said Tony de Leon, Playersoft CEO."It's the second time Mobile Enrollment has been recognized by the industry, having won Gaming and Leisure Magazine's top honors with the "Platinum Award" this past October.
Playersoft Technologies has expanded dramatically in the last 18 months with clients spanning six different gaming states and the Bahamas. While Mobile Enrollment has been the catalyst for much of Playersoft's growth, the company offers a wide range of software products focused on the gaming
industry.
"Our staff is from casino backgrounds and we understand the operational needs of individual casino management teams and what they require to create a special guest experience." says Rick Messura,
Executive Vice President. "And our service reputation is growing as fast as our reputation for gaming software development."
Playersoft has added to its suite of products by building on Mobile Enrollment's platform with Group Tracker, a check-in, tracking and group management application. "All of our products work in tandem allowing staff to use the mobile iPod touch tools to check-in groups while allowing management to track every aspect of a group from commissions and costs to the play associated with the group, allowing real time profitability," said de Leon.
Playersoft will be profiled in the March issue of Casino Journal and will be recognized at the March 13 luncheon during the Gaming Technology Conference in Las Vegas. Mobile Enrollment and Group Tracker will be on display at the Gaming Technology Conference in Las Vegas March 12th and 13th, located at Green Valley Ranch, Booth #214.
"There is no doubt of the growing need for mobile technology in the casino industry," said Messura. "Operators have been looking for a solution for years and their response to our mobile products indicates Playersoft will be an important player for years to come."