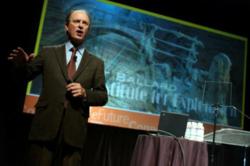 His mission is to go where no one has gone before... on planet Earth.
Sacramento, CA (PRWEB) March 13, 2013
By: Ken Tronnes
Sacramento, California - The Sacramento Speakers Series welcomes one of the world's most accomplished and well known deep-sea explorers, Dr. Robert Ballard to Sacramento as he speaks at the Community Center Theater on Tuesday, April 2nd. The six-part lecture series showcases contemporary insights from some of today's most influential figures in a candid and relaxed setting. Dr. Ballard is probably best known for his discovery of the RMS Titanic wreckage in 1985.
Dr. Ballard has been noted saying that his mission is to go where no one has gone before... on planet Earth. Ballard encourages the exploration of our oceans as he believes our planet's future to be here on Earth, not in space. This is evident through his historic discoveries of hydrothermal vents near the Galapagos Islands in 1977, the German battleship Bismarck in 1989, the aircraft carrier USS Yorktown in 1998 and the wreckage of John F. Kennedy's PT-109 in 2002.
In addition to his field work, Dr. Ballard is also an educator. He is a professor of oceanography at the University of Rhode Island and has pioneered distance learning in American classrooms and around the world with the JASON Project. The JASON Project is an award-winning program that provides educational materials, courses and workshops to more than 1 million students and 25,000 teachers annually. The program is designed to motivate and inspire students to pursue interests and careers in science, technology, engineering and mathematics.
Dr. Robert Ballard's talk is sure to inspire those in attendance through his natural storytelling ability and animated presentation skills.
This event will be held at the Community Center Theater in Downtown Sacramento at 8:00 pm, on Tuesday, April 2nd. Doors open at 7:00 pm.
For more information about the Sacramento Speakers Series and the 2012-2013 Season visit them online at sacramentospeakers.com.