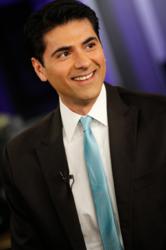 As far as conventional wisdom goes, we know that HIV can be controlled.
Beverly Hills, CA (PRWEB) March 12, 2013
A weekly feature on Fox's Good Day LA, Dr. Sonu Ahluwalia informs California residents about a variety of health topics ranging from orthopedics to general health. This Monday, the Beverly Hills doctor discussed new advancements in the treatment of HIV and AIDS.
"As far as conventional wisdom goes, we know that HIV can be controlled," said Dr. Ahluwalia, who is a member of the Department of Orthopedic Surgery at La Peer Heath Systems. "But this is the first time a baby has been treated with medication and seems to not have the HIV virus anymore."
The Mississippi-born child, whose name and sex have not been released for privacy reasons, was diagnosed with HIV at birth. After early, aggressive antiviral treatment, doctors found no sign of a "functioning virus." In other words, the baby has been deemed cured of HIV.
Because the baby was born to a mother who did not know she was infected, the child in question did not have access to the preventative measures typically utilized when a mother is HIV positive. According to Dr. Ahluwalia, these measures prevent most US-born children from contracting HIV from their mothers. However, patients in Africa and other areas do not have access to the same treatment.
"We're going more from AIDS as a death sentence to more of a chronic disease that we can treat," said Dr. Ahluwalia, who went on to comment that a cure would be "a ray of hope" for AIDS sufferers around the world.
The board-certified surgeon went on to promote the new home test for HIV. Using a simple saliva screening, the test costs just $39 and offers fast, confidential results.
In the same segment, Dr. Ahluwalia spoke about a possible connection between childhood asthma and BPA.
"Incidence of asthma in our country is increasing, and we don't know why," said Dr. Ahluwalia, pointing to studies linking the BPA mothers are consuming with a rise in asthma rates among young children.
"We add a lot of these chemicals to make our lives easier...and I think we end up with problems," Dr. Ahluwalia said, adding that BPA might need to go away.
Watch the entire news segment on My Fox LA.
For more health tips from Dr. Ahluwalia, as well as videos of his FoxLA segments, visit his Facebook page.
Sonu Ahluwalia, MD, is an internationally-acclaimed board-certified orthopedic surgeon at La Peer Health Systems, as well as the Clinical Chief of Orthopaedic Surgery at Cedars Sinai Medical Center in Beverly Hills. His private practice specializes in sports medicine, shoulder, knee and hip surgery.
Dr. Ahluwalia completed his orthopedic training at the Harvard Combined Orthopaedic Surgery Residency Program in Boston, one of the most sought after training programs in orthopaedic surgery. He has completed three fellowships, two at Harvard Medical School and one at Lenox Hill Hospital in New York City, on shoulder surgery, sports medicine, and joint replacement and joint preservation surgery. For more information please call 310.659.2910 or visit http://www.Ahluwalia.org.