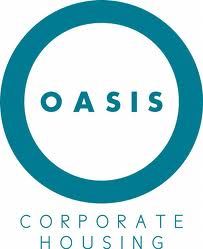 "This award is an acknowledgement that when you put forth the effort to always do the right thing, people take notice," said Steve Frey, president of Oasis Corporate Housing
TAMPA, Fla (PRWEB) March 07, 2013
Oasis Corporate Housing has been named Company of the Year by the Corporate Housing Providers Association (CHPA), which represents the corporate housing industry.
The Corporate Housing Providers Association awarded Oasis its 2013 Tower of Excellence Award at the group's annual conference on Feb. 21 in Phoenix, AZ.
"We've been incredibly fortunate to have the right people join our team at the right time. Everybody here shares our attitude of doing whatever it takes to make our clients happy."
The award won by Oasis is seen as a prestigious award among companies that provide extended housing for executives, transferees, those assigned to long-term projects and others who need temporary housing for 30 days or more.
Mary Ann Passi, chief executive officer of the Corporate Housing Providers Association, told the organization that the Tower of Excellence Award showcases companies that have made an impact and have improved the corporate housing industry.
"This is our opportunity to highlight the most significant contributions each year," she said. "It's often hard to pick one awardee per category as all of our members provide exceptional professional services and a unique lodging solution to many stakeholders daily."
Ms. Passi praised Oasis for the valuable services it provides to partners.
"Their colleagues view them as a valuable resource," she said. "Their investments in technology continue to deliver efficiencies and value for their clients to enjoy."
For Frey, being seen as a trusted valuable resource is the ultimate praise the company can receive from its clients.
"People engage us for our attention to even the most minor detail, our global experience, and our desire to make our clients' life easier" said Frey. "Moving to a new city can be nerve-racking. Being able to provide a safe and comfortable home in that new city delivers a peace of mind that allows people to focus on other aspects of the job and move. Within our industry, we've developed a reputation as being a trustworthy and dependable source for temporary housing around the world."
Harnessing technology, delivering exactly what our clients want, and being able to offer the best properties throughout the world, has helped the company grow and become a trusted partner for some of the largest organizations in the United States, said Frey. Ultimately, he asserted, the company has earned its reputation by doing the right thing for clients. It's a phrase he uses often. He explains that it means humanizing the move, taking nothing for granted and making sure clients' employees will be comfortable when they arrive at their temporary home.
"Customers trust that when their employees arrive at their new home away from home, they are going to be comfortable and feel at home. It will set the tone for their new endeavor," explained Frey. "We put ourselves in the position of the person making this move. Things that may seem like small details to someone else can become magnified because moving is already a stressful time."
Frey said every detail is checked and rechecked and the company makes sure it does a superior job of matching properties to what clients are looking for as a home. The philosophy seems to be working, said Frey. In addition to a top industry award, the company continues to grow and add new clients to its roster.
Privately held Oasis Corporate Housing is based in Tampa, and offers housing in 46 states in the United States and in 27 other countries. Oasis provides housing near most American military bases. Many companies turn to Oasis because the company provides housing in top-tier locations that include furniture, décor, linens, housewares, phone services, digital cable, high-speed Internet and all utilities at significantly lower costs and more comfort than a hotel. More information about Oasis and their services is available by calling 1 (800) 578-0256 or by clicking on http://oasiscorporatehousing.com/pages/contact_us.