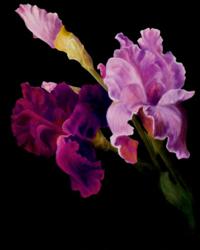 Scottsdale, AZ (PRWEB) March 09, 2013
The Arizona Fine Art EXPO provides a destination for art enthusiasts with the opportunity to meet, talk and purchase art directly from the artists. The artists' studios are open daily from 10am until 6pm offering visitors a rare opportunity to witness art in the developmental stages from beginning to finish.
JOY HARTL: Growing up on a farm, I learned that Nature is the most sublime art of all. 
In later years when Joy thought of becoming a full time artist, that realization turned into a challenge.  How could one capture the palette of a sunrise or sunset and colors that constantly evolve into new hues and shades?  How could one ensnare the monochromatic journey of clouds on canvas, ever shifting from glowing pastels to gloomy tones?  How could one reveal the essence of a flower, the exquisite inner architecture that embraces galaxies of light and color?
More than a decade ago, I began intensive study to help me unlock the subtle beauty created by Nature.  If my efforts allow you to see the beauty of a flower in a different way...appreciate the illusiveness of a cloud...admire the majesty of a sunset or sunrise, well, then, its worth all those untold hours spent in front of an easel.
CARLOS AYALA: Carlos may be a new name to the main-stream art world, but for over twenty years he has been prolifically creating figurative bronzes for individual and public commissions. Most of his work has been one-of-a-kind, life-size and monumental works for homes, churches and public facilities throughout the United States and other International locations including Canada, Mexico, Italy, Spain, the Philippines, and China.  His artwork, detailed and realistic in nature expresses the beauty and hope that is a timeless message even in the midst of a world full of great opposition and suffering. While Carlos has focused primarily on sculpture, he is also an accomplished painter.
 Through much difficulty, sweat, and heartache, Carlos' gift of artistic talent has been realized and grown.  Born as the eighth child of ten to a poverty stricken family in central Mexico, Carlos has had to work very hard to overcome great obstacles.  He was born a survivor and has learned the hard way, even as a young boy, that life is a great gift. Both of Carlos' parents died when he was just four years old.  A unique orphanage named Nuestros Pequenos Hermanos located outside of Mexico City provided Carlos a new and ever-expanding family.
 After becoming a part of this unique family of orphaned children, Carlos received an education and thrived in this secure and loving environment.  At age 16, Carlos' determination to become an artist drove him to leave the security of the orphanage to pursue a career in fine-art.  He received a five-year degree in Fine Arts from Bellas Artes, the National Institute of Fine Arts in Mexico, D.F., Mexico's premier art school.
Carlos received an invitation to come to the United States in 1986 to continue his studies and work on his career in art here in the U.S.   His first sculpture, after moving to the U.S. was a 7 ft. bronze of "The Risen Christ".  It was a commission for the Shrine of St. Joseph in Yarnell, Arizona.  This first commission opened the door for an over twenty-year career in commissioned artwork.
Diversity, simplicity, and purity are common themes throughout Carlos' artistic expressions.  Carlos has the capability of working in virtually any medium.  He has focused primarily in bronze sculpture and painting in oil, acrylic or watercolor.  The themes of his artwork have at their foundation the foundations of life itself.  Each piece of artwork that Carlos creates is an expression of gratitude and celebration for the gift of life.  He wishes that each person realize the gifts of life that surround us and are renewed with each new day.  Life is something that Carlos does not take for granted.  He celebrates life through the creation and expression of his artwork.  As reflections of a loving Creator, the creatures great and small are gifts that must not be taken for granted.
To see more of the artists work, visit Joy Hartl in studio 41/42 & Carlos Ayala in studio 31 at the Arizona Fine Art Expo.
WHEN:
January 10th thru March 24th, 2013
Open 10am until 6pm, 7 days a week
WHERE:
Arizona Fine Art EXPO, 26540 N Scottsdale Road, 85254
Southwest corner of Jomax & Scottsdale Roads, North Scottsdale
5 miles south of Carefree & 5 miles north of Loop 101 (5 minutes)
WHO:
Open to the public
115 studios filled with award-winning artists passionately producing art.
Easy access and wheelchair accessibility.
ADMISSION & PARKING:
Season Pass (one time fee) $10, $8 for seniors and military.
Purchase passes at the gate or call ahead.
Return as often as desired at no additional charge with Season Pass.
Parking is Free
visit http://www.ArizonaFineArtEXPO.com or call 480-837-7163