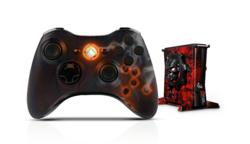 Einstein Imaging is innovative new controller tech that allows Einstein Modz to apply any graphic design to a controller
SUPERIOR, WI. (PRWEB) March 11, 2013
Einstein Modz are proud to announce a special deal this March celebrating the release of Gears of War: Judgment
Using new technology called *Einstein imaging, Einstein Modz have created a Xbox 360 controller with an exclusive tribute design and a free Gears of War Vault (MSRP $89.99) included with every Judgment controller purchase at EinsteinModz.com.
Controller features:
-Amber glowing LEDs
-Black bullet buttons
-Exclusive "Judgment" casing design
-With two versions: One for $129.99 with special gameplay enhancements and a standard version for $109.99.
Offer lasts March only with Vault supplies limited.
*What is Einstein Imaging?
Einstein Imaging is innovative new controller tech that allows Einstein Modz to apply any graphic design to a controller [see attached gallery for examples of exclusive designs]
About Einstein Modz
Formed in 2010, Einstein Modz specializes in innovative accessories that enhance the gameplay experience for the video game consumer, while satisfying the creative needs of gamers worldwide with the largest selection of cosmetic options in the marketplace.
With more than 30 years of combined industry experience and over 14 million possible customization options for a controller, Einstein Modz is ideally positioned to deliver cutting-edge solutions that can be tailored to individual preferences. More information can be found online at http://www.EinsteinModz.com.
Xbox and Xbox 360 are trademarks of the Microsoft group of companies.
All other trademarks are the property of their respective owners.
###
For more information or review samples for giveaway please call Paul Byrne on the contact details provided. The first 10 major media outlets will receive Judgment controllers and Gears of War Vaults.