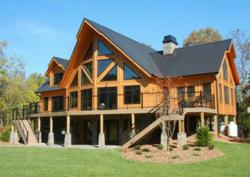 This is the first time that Timber Block has had a promotion of this magnitude and we're very excited about it.
Connelly Springs, NC (PRWEB) March 13, 2013
Timber Block is gearing up for spring with its first annual March Madness Open House event on March 22nd, 23rd, and 24th. Guests of the event will be treated to unlimited access to the over 3000 square foot log home as well as information sessions delivered by Timber Block President, Craig Johnson.
Hosting the event in March is no accident, says Mr. Johnson. "We're seeing a definite increase in activity at the consumer level and we want to be sure that potential home buyers are as informed as possible during this critical upturn in the economy." Customers who sign this month can take advantage of great promotions that will save them thousands of dollars towards the purchase of their new home. "This is the first time that Timber Block has had a promotion of this magnitude and we're very excited about it."
The spectacular architecture of the home, with its golden prow, can be seen easily from Interstate 40 near exit 118 is a sight to behold in and of itself. The real beauty, however, is on the inside of the home. "Events like this allow people to really grasp just how breathtaking it can be on the inside. This is our chance to show people the beauty and innovation of Timber Block as well as provide them with substantial incentives to act now," explains Johnson. "At this point, interested homeowners can receive delivery of their new homes before the fall."
According to a February article in USA TODAY by Ray Goldbacker, "Buyer traffic is continuing to pick up, while seller traffic is holding steady," he said. "In fact, buyer traffic is 40% above a year ago, so there is plenty of demand but insufficient inventory to improve sales more strongly."
That's where solutions like Timber Block can help. By providing energy efficient homes that can be put up in as little as one day due to their panelized system, homeowners can get the new home they're looking for quickly. And while other suppliers shut down in the winter and save their production period for the spring and summer, Timber Block runs their facility year round, meaning there's still production availability throughout the summer.
Open house events, like the one hosted by Timber Block, are so important in the research stages of home buying. Much can be gathered online and at tradeshows, but homeowners can only really get a sense of what the home feels like by paying a visit.
Timber Block homes, in particular, provide a tremendous sensory experience. It's easy to understand what can be taken in by sight, but people often forget the importance of the other senses when it comes to home buying. A step inside the Timber Block log home will reveal so much in a matter of seconds; most notably, the silence. The R-30 insulation is great for energy efficiency, obviously, but it also offers a tremendous barrier against outside noise. Visitors to the home often remark on just how quiet it is, especially given its location.
Smell is another sense that can't really be communicated via traditional media, but the sweet, natural aroma of eastern white pine fills the air inside the home. While many open house events use the smell of baked goods or flowers to set the mood for visitors, Timber Block lets their logs do the talking and guests love every last whiff.
Finally, no video, website, or print ad can ever communicate the feel of wood on the hands. A walk through the log home allows guests to touch the walls and experience the variety of shapes and finishes that are available in each Timber Block panelized home. Visitors can take their time and familiarize themselves with the product in a pressure-free home environment. And if they have any questions, the friendly and knowledgeable team is there to help.
The Timber Block March Madness Open House Event runs from Friday March 22nd through Sunday March 24th, but residents are encouraged to stop in any time. The model home, at 3708 Curleys Fish Camp Road, is open 7 days a week: Monday to Thursday from 9 to 5, Fridays from 9 to 8, Saturdays from 9 to 5, and Sundays from noon to 5.
About Timber Block:
Timber Block's team of professionals offer a product unmatched in residential or commercial log and timber construction, which provides clients with state of the art, environmentally responsible technology combined with cost effective building methods. Delivering stock or custom products, the team at Timber Block works within partnerships, maximizing the aesthetic and investment, to realize the dream of each unique project. Timber Block provides custom or stock insulated log homes utilizing a revolutionary R-30 insulated log, which is a proprietary and patented product.