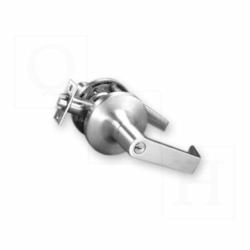 West Babylon, New York (PRWEB) March 07, 2013
Quality Door & Hardware, Inc. announced today that it has chosen Yale Locksets, Panic Devices and Door Closers as its specially featured line-up of quality products for March 2013.
Yale's high quality key-in-knob 5400 series locksets offer the finest cylindrical lock mechanisms available on the market today. The 5400 Series locksets are assembled with superbly engineered components and constructed with high grade materials for long lasting reliability. These 5400 Series Grade 1 locksets, which are are manufactured for the industrial, commercial and institutional markets, feature security,dependability and versatility in design and finishes to compliment any architectural decor.
Yale's 3000 Series Architectural Door Closers offer the perfect combination of reliability, appearance and durability for today's market. The Yale 3501 Door Closer is an ANSI Grade 1 closer and has a long history of proven quality. It is the ideal choice for upscale facilities that demand superior performance such as corporate offices, banks, medical facilities and institutional applications. The Yale 3500 door closers feature rack and pinon design and a complete range of arm and cover options to meet virtually any application challenge.
The Yale 7000 series exit devices deliver an unparalleled combination of durability, innovation and aesthetics. To meet electrical access control needs, Yale 7000 series exit devices come with a full array of electromechanical options and accessories and can be effortlessly integrated into existing security or fire alarm systems to ensure every opening is properly safeguarded. These quality Yale 7000 series exit devices meet life safety codes and fire safety requirements, allowing for compliance with local ordinances and peace of mind for the users. The simple clean lines of the stile devices are visually appealing and bring a gracious touch to any application. At the same time, the steel chassis construction and heavy duty components of the 7000 series exit devices, provide. superior strength and lower maintenance.
Quality Door & Hardware invites you to visit our website at http://www.QualityDoor.com to learn more about these high quality Yale products and all of the other fine commercial door hardware products we feature. Every product we sell is backed by our unparalleled customer service and offered at our everyday competitive prices. That is why we urge you to experience for yourself "the difference that 'Quality' can make in your business".