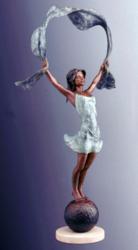 "My sculptures portray a time remembered, when life and its pleasures were simple and playful" says Paula.
Scottsdale, AZ (PRWEB) March 10, 2013
With a vast spectrum of exhibited works, this month the Arizona Fine Art Expo will be bringing different artists to the foreground, who embody the varying genres in art. Today's focus is on Bill Shaddix, western painter and Paula Yates, bronze sculptor.
Bill Shaddix: Born November 30,1931, the success that Bill Shaddix has received has been hard fought and well deserved. The oldest of eight children, Bill knew intimately the grinding poverty of the depression years. His parents lost their own farm in Oklahoma and worked as laborers to hold the family together. Bill can still remember working alongside his mother in the cotton fields. But the painful memory of lean times is tempered by more happy thoughts, of fishing in the creek, gigging for frogs, and occasionally stealing a melon and eating the heart out right here in the patch".
Self-taught, he has enjoyed a successful career as a full-time professional artist since 1960. He is firmly established at the forefront of contemporary western painters. An enthusiastic and sincere man, he approaches his subject matter with love born of a long, close association with land, first the land of his native Oklahoma and later the greater United States and Canada with their mountains, deserts, and coast lines.
Through a dynamic and often bold technique, he develops an appealing atmosphere in his canvases, which invites the viewer to become an active participant, rather than a passive observer. His palette is a broad one, providing dimensions for the striking contrasts of values of which are predominant in his compositions.
Like many artists, Shaddix has spent hundreds of hours, both in the field and in bookstores and libraries, researching his subjects to retain the authenticity of the old west, cowboys and ranchers. He specializes in oils, but enjoys working in other mediums, including sculpture. His paintings can be found in many museums throughout the country and continues to be acquired by discriminating collectors world-wide.
Paula Yates: Paula has explored her natural creative ability since childhood. Her dream was to grow up and be an artist. However, her career was in banking until the year 1991. She changed careers and went into the business of fine art framing. Exposure to nationally recognized artists and galleries became the inspiration that led Paula to her first sculpture class. An instantaneous love of sculpture became a creative turning point in her life. She first pursued sculpting as a hobby and was later compelled to turn it into her career. She now has pieces in private and corporate collections throughout the USA, Canada and Europe.
"My sculptures portray a time remembered, when life and its pleasures were simple and playful" says Paula. The freedom and energy of her women and children capture the heart. The dream of a young girl to someday become an artist has been realized.
To see more of the artists work, visit Bill Shaddix in studio 58 & Paula Yates in studio 17 at the Arizona Fine Art Expo.
WHEN:
January 10th thru March 24th, 2013
Open 10am until 6pm, 7 days a week
WHERE:
Arizona Fine Art EXPO, 26540 N Scottsdale Road, 85254
Southwest corner of Jomax & Scottsdale Roads, North Scottsdale
5 miles south of Carefree & 5 miles north of Loop 101 (5 minutes)
WHO:
Open to the public
100 studios filled with award-winning artists passionately producing art. Easy access and wheelchair accessibility.
ADMISSION & PARKING:
Season Pass (one time fee) $10, $8 for seniors and military.
Purchase passes at the gate or call ahead.
Return as often as desired at no additional charge with Season Pass.
Parking is Free
visit http://www.ArizonaFineArtEXPO.com or call 480-837-7163