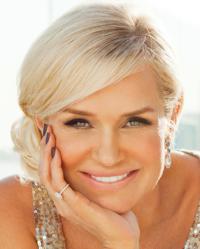 By lending her powerful voice to LRA's campaign to fund a cure, Yolanda will be helping countless people overcome Lyme disease down the road.
Stamford, CT (PRWEB) March 11, 2013
Lyme Research Alliance (LRA) today announced it will honor Yolanda Foster, one of the "Real Housewives of Beverly Hills," with its Star Light Award, and Mark W. Eshoo, Ph.D and Steven E. Schutzer, MD with the Lauren F. Brooks Hope Award at LRA's "Time for Lyme" Gala on April 6 at the Hyatt Regency Greenwich, in Old Greenwich, CT.
Foster, a Dutch former model married to Grammy award winning songwriter and producer David Foster, starred in season 3 of the Bravo TV reality show. LRA selected Foster, a chronic Lyme sufferer, for the Award because she has spoken openly about her struggle with the disease and her strenuous treatment regimen. She's reached out to her fellow "Lyme warriors" on social media, even tweeting a picture of herself getting treatment. In December, she posted a holiday message to Lyme patients, saying "I know this is tough, but 'Together we stand strong.'"
"We are thrilled that Yolanda Foster will be joining us at the Gala and that she decided to raise awareness for Lyme disease," said Ally Hilfiger, Gala co-chair. "Thousands of people every year are forced to deal with the devastating effects of Lyme. By lending her powerful voice to LRA's campaign to fund a cure, Yolanda will be helping countless people overcome this disease down the road."
Immunologist Steven Schutzer, MD, of the University of Medicine and Dentistry of New Jersey, will receive the Lauren F. Brooks Hope Award at the Gala. In 2011 Dr. Schutzer's team demonstrated that proteins discovered in the spinal fluid of patients with chronic fatigue syndrome were different from those with persistent symptoms of neurological Lyme disease, with which it is often confused. Dr. Schutzer's continued work in the identifcation of distinct protein biomarkers provides hope for a new understanding of persistent symptoms of Lyme and ultimately for an effective diagnosis and treatment of this condition.
Also to be honored at the Gala, for his unfaltering committment to developing better diagnostics for Lyme and other tick-borne diseases, is Mark Eshoo, Ph.D, director of new technology at Ibis Biosciences, a subsidiary of Abbott. At Ibis, Dr. Eshoo is working to improve the sensitivity of diagnostic tests for Lyme disease and continues to make progress for the detection of Lyme disease during the initial stages of the infection when diagnosis and treatment are most effective.
Both scientists will receive the Lauren F. Brooks Hope Award, named for Lauren Brooks, a former LRA (then Time for Lyme) board member who gave unwavering support to families looking for guidance in the face of Lyme disease. Brooks died in 2007 but her humanitarian spirit, along with her passion and tireless efforts, live on in this special award in her name honoring those who are making strides in research and treatment in our pursuit of a cure.
"We are thankful that Steve Schutzer and Mark Eshoo have dedicated their efforts to this important foundational work in the tick-borne disease arena," said Harriet Kotsoris, MD, LRA's chief scientific officer. "We believe that by naming these esteemed scientists as our honorees we are giving important recognition to science that creates a foundation on which other researchers in the field can build, with the ultimate goal of developing a reliable diagnostic tool and an effective treatment for persistent, or 'chronic' Lyme."
The Gala will be chaired by Ally Hilfiger, who received the organization's first-ever Star Light Award in 2011, Mark Hopwood and Brent Kristoff. Corporate Chairs are Craig Cogut, founder and managing partner of Pegasus Capital Advisors, L.P., and Deborah Cogut, founder and vice-chair of The Polyphony Foundation.
The event will be emceed by Ira Joe Fisher, best known as the jovial weather reporter on CBS's "The Saturday Early Show." Fisher is a prolific writer and poet and has authored several books, including Songs From an Earlier Century, Remembering Raw and Some Holy Weight in the Village Air.
Fisher will also serve as an Honorary Event Chair for the Gala and will be joined in that role by a star-studded roster of individuals, including Bravo TV's Andy Cohen, designer Tommy Hilfiger, Olympic gold medalist Donna deVarona, baseball's Bobby Valentine, actress Joanna Kerns, Rolling Stone Ronnie Wood and his wife, Sally, and fashion model Georgia May Jagger.
LRA's "Time for Lyme" Gala is its largest fundraiser of the year and proceeds fund important medical research projects. LRA is the leading private funding organization for cutting-edge research into the prevention, diagnosis and treatment of Lyme and other tick-borne diseases by universities and major medical institutions around the U.S. In 2007, LRA partnered with Columbia University Medical Center in New York City and the Lyme Disease Association to endow the nation's first Lyme and Tick-Borne Disease Research Center at Columbia.
The Gala will be held Saturday, April 6 from 6 p.m. to midnight at the Hyatt Regency Greenwich in Old Greenwich, CT. It features dinner, dancing and a live and silent auction.
TICKET INFORMATION:
Tickets may be purchased online by visiting http://www.lymeresearchalliance.org and clicking on the homepage box, or by calling 203-969-1333.
_________________________________________________________________________________
Lyme Research Alliance, formerly Time for Lyme, is a Connecticut-based, national non-profit that funds cutting-edge research into Lyme and other tick-borne diseases. For more information go to http://www.lymeresearchalliance.org.