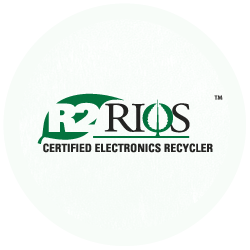 Phoenix, AZ (PRWEB) March 09, 2013
Arizona based electronic recycling company, E-Waste Harvesters, is committed to following the industry's best standards by adopting and implementing the Recycling Industry Operating Standards (RIOS). The R2/RIOS certification is the recycling industries highest standards for quality, environment, health, safety, and data security. E-Waste Harvesters has recently been certified by ANAB accredited third party auditors effective February 1, 2013 to verify the RIOS requirements. The ROIS standard has given E-Waste Harvesters the ability to influence the valley significantly by:

Improving the overall health and safety practices in an effort to reduce the risks and costs.
Monitor any environmental compliance that arises, which has already led to a substantial
decrease in environmental risks and costs.

Developing product quality to increase customer satisfaction and confidence.
With 3 to 4 million tons of electronics equipment recycled every year, the market demand has driven the need for responsible electronics recycling practices to the highest level. R2 certification is a critical protection against data theft because it adheres to HIPPA and requires a proper data destruction method. The latest R2 certification has allowed E-Waste Harvesters to help the local community by:
Cultivating confidence in health and safety compliance.
Developing safer operation practices.
Reducing the accident rates and safety-related costs.
The R2/ROIS certification gives consumers and businesses a peace of mind in this fast growing industry. With that said, E-Waste Harvesters is devoted to making a difference in the community through their commitment to reduce, reuse, and recycle.
###
About E-Waste Harvesters: E-Waste Harvesters is an industry leader in the field of asset management, electronic recycling, disposal, and parts harvesting. The Phoenix based company, has adopted a zero landfill policy and is committed to the refinement of our recycling and environmental process. In hopes to further reduce the impact of e-waste on the environment. E-Waste Harvesters monitors waste streams collected and is constantly searching for new recycling options. To learn more about E-Waste Harvesters please visit: http://www.e-wasteharvesters.com .