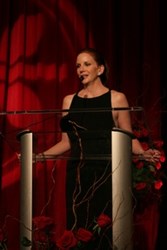 The children I have met and their families stir my soul and reshape my vision of the world.
Alexandria, VA (PRWEB) March 08, 2013
Every spring, the National Hospice Foundation Gala honors and celebrates those at the center of care: The patients and families that hospice professionals and volunteers compassionately care for in communities across the country. This year, NHF will pay special tribute to the youngest in our care, pediatric patients and their families.
NHF is proud to announce that Melissa Gilbert, director, actor, producer, and pediatric palliative care activist, is serving as the NHF Gala honorary chair.
"I am passionate about and committed to this cause — and the truly amazing part is the meaning that this work brings to my life. The children I have met and their families stir my soul and reshape my vision of the world. They are each extraordinary in their own way and it has been my honor to know them," said Gilbert.
This, the ninth annual gala, will celebrate and honor these heroic young patients, their families, and the professionals that care for them by sharing some of their inspiring stories with guests at the event on Friday, April 26, 2013, at the Gaylord National Resort and Convention Center in National Harbor, Maryland.
These stories will be a centerpiece of April's event. Whether it's recognizing the direct care provided to young people, the grief support offered to families, the advocacy efforts of pediatric care champions, or the inspiration found through an individual patient or family, NHF invites others to help us in honoring the many people at the heart of pediatric palliative and hospice care.
A donation of $1,000 will enable individuals or organizations to share a story with NHF and the hospice community. These stories will be printed on keepsake cards placed at every gala table. Additionally, those honored on the keepsake cards will be recognized in perpetuity with an engraved 5x7 Tribute Tile to be displayed at the National Center for Care at the End of Life in Alexandria – home to the National Hospice Foundation and its affiliated family of organizations.
"Efforts to raise awareness and provide resources for the provision of pediatric hospice and palliative care have been a focus of NHF and the National Hospice and Palliative Care Organization over the past several years," said J. Donald Schumacher, president and CEO of NHF and NHPCO. "Now, we want to take time to honor and celebrate all those at the center of this important care."
The evening includes dinner and dancing, awards, and both a silent and live auction with proceeds supporting the important pediatric care efforts of NHPCO and NHF.
The deadline for submitting an honoree story for the keepsake cards is April 1, 2013.