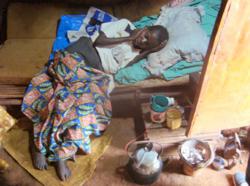 Mishawaka, IN (PRWEB) March 15, 2013
When the Hospice Foundation chose the title of its short documentary film about palliative care in Uganda, "we wanted a phrase that signified both hope and action. The word we chose was okuyamba, the Lugandan word meaning 'to help'", said Mike Wargo, COO of the Hospice Foundation and one of the film's co-directors.
The Hospice Foundation continues to help its partner, the Palliative Care Association of Uganda (PCAU) in its mission to provide palliative care to those who need it most. The challenges are staggering. Of the country's 112 districts, only 62 have health care workers trained in palliative care.
As a result, one of the most important ways in which the Hospice Foundation helps to support PCAU's work is to fund the training of Ugandan health care workers as palliative care specialists. These health care workers, who are recruited from districts with little or no palliative care service, complete a year-long Clinical Palliative Care Course (CPCC) in the country's capital city of Kampala. Following training, they return to their workplace as leaders in the district's development of palliative care provision for those who have no other access to skilled care as they face the end of life.
This course provides students with advanced knowledge that enables them to treat the physical, emotional, psycho-social and spiritual pain of patients and their families. Program graduates are also recognized by the Ugandan government as "prescribers" and are then able to prescribe morphine, the drug of choice for pain control.
In the past three years, through a combination of employee giving and grants, the Hospice Foundation have funded 11 students to participate in the CPCC program. Plans are underway to expand the program to as many as 10 students in 2013.
The organization is working with FHSSA (formerly Foundation for Hospices in Sub-Saharan Africa) to raise money for this initiative through a crowdfunding platform. Crowdfunding is an online, community-oriented way to support important initiatives and has been used successfully for disaster relief and other worthwhile causes. You can view our initiative, which is called "You Can Okuyamba" at http://crowdfunding.fhssa.org/campaign/detail/535.
The Hospice Foundation has set a goal of raising $4,000 in 60 days, which will fund the training, travel, room and board for one health care worker to complete the educational requirements for this specialized field of medicine.