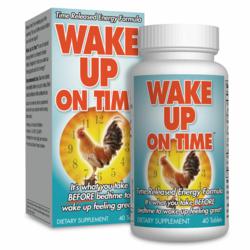 Sparta, NJ (PRWEB) March 07, 2013
This Saturday marks the early onset of Spring- as Daylight Saving Time indicates we turn our clock hands one hour forward. While this may come as a joy for some, those who disdain mornings view it as a curse. According to research from The New England Journal Of Medicine, rates of traffic accidents, workplace accidents and heart attacks rise the Monday after the daylight-saving, sleep losing switch.
There is a new pill on the market that can help to combat the morning woes and groans, before even getting into bed at night. The supplement company Rise-N-Shine, has created Wake Up On Time, a proprietary blend of B vitamins, Amino Acids, Guarana Seed Extract and Siberian Ginseng that are geared to address the psychological and physical reasons why people have trouble getting out of bed in the morning. The magic behind the pills is the special coating over the tablets to delay the initial release of the ingredients. The coating dissolves over time while you sleep over and delivers its benefits when you need them most; when the alarm clock rings.
"It's more than a vitamin, it's time in a bottle because, instead of hitting the snooze button over and over again, our product allows you bounce out of bed, ready to go," said Cathy Beggan, founder of Rise-N-Shine and creator of this supplement. Wake Up On Time does have an important side effect-- it promotes singing in the shower and getting to work on time.
Steve Nagle, Morning Producer from WAQY-FM/Springfield, MA, says: "Wake Up On Time has worked wonders for me. Before I started using it, I was constantly feeling groggy in the early morning. As I started taking Wake Up On Time, I could feel the effects immediately. I now wake up feeling energized and refreshed, and feel no need to hit the snooze button!"
A patent is currently pending. Wake Up On Time is available at select stores across the US, or you can buy direct at http://www.wakeupontime.com.
About The Company:
Rise-N-Shine, LLC is a New Jersey based all-natural supplement company engaged in developing proprietary, targeted supplements on the basis of meeting everyday needs naturally. Founded in 2006 by Cathy Beggan, Rise-N-Shine's best sellers include, Go Away Gray, a patent pending pill that prevents and reverses gray hair, along with over twenty other products designed to help people to look and feel their best. . Our products are manufactured for safety in the United States of America in a world class, fully climate-controlled, 150,000 square foot FDA-inspected facility that ensures purity and accuracy of materials through inspection and evaluation at every step of production and packaging.
###