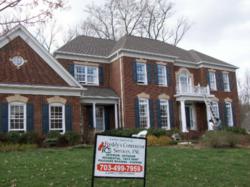 We were very fortunate to have found such a professional that really knows his business and works with you in making sure that you are happy with the job. We would recommend him to anyone that needs any painting or drywall work.
Washington, DC (PRWEB) March 18, 2013
Freddy's Contractor Services, Inc. was awarded the "Best of the Best" designation for excellence by Follow Media Consulting, Inc. in the category of Painter Alexandria. This award signifies the continued commitment and dedication of the areas best in contractor services for interior and exterior custom painting, drywall, carpentry, pressure washing and stain works.
Freddy's Contractor Service, Inc is a fully licensed and insured company which has been operating in Northern Virginia Area and DC metropolitan area since 2000. They specialize in interior and exterior custom painting, drywall, carpentry, pressure washer and stain works, to name a few of their crafts.
Owner / CEO Freddy Vargas began his business in 2000 with one helper by his side, with the intention of providing fast, courteous service, reasonable rates and high quality work. Over a decade later, Freddy's Contractor Services,Inc continues with that philosophy today.
Freddy Vargas established his contracting service company over a decade ago. Born and raised in Barranquilla, Colombia; Freddy earned his degree in accounting from Metropolitana University located in his city. He then worked as branch manager for Cafetero Bank for eight years where he perfected his customer service skills and broadened his knowledge of business's basic foundations.
Fully licensed and insured since it's 2000 beginning, Freddys Contractor Services, Inc has been operating in Virginia area. He has served many satisfied customers in Alexandria, Fairfax County, Loundon County, Prince William County as well as the metropolitan area of Washington DC . Their services includes drywall hanging, finishing and repairing, interior and exterior painting, stain jobs, power washing, faux paint and many more. To get a quote or to know more on their services, visit their website at http://www.fcservicesinc.com or call them at (703) 499-7959 for more details.
About Follow Media Consulting, Inc.
Named one of the best SEO companies by Jonas Marketing, Follow Media Consulting, Inc. is a rapidly growing worldwide firm of SEO, Social Media, and Mobile Marketing Professionals. Follow Media Consulting, Inc. headquarters is located in Richmond, VA. However, our professional team is networked across the world, with regional offices across the United States, in the United Kingdom, Canada, Australia, France, South Africa, the Philippines, and India.