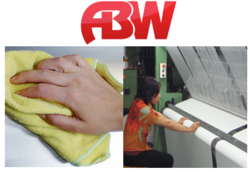 "We are so excited to carry on with the plans we set into motion in our 65th year in business in 2013," said a company spokesperson
(PRWEB) March 07, 2013
2012 was not only a milestone birthday year for A & B Wiper Supply (ABW), but it was also a year of immense growth. Their inventory grew beyond any of the preceding years, and the staff grew as well. The company also merged with Nation Ruskin to form a new and dynamic partnership; A & B Wiper Supply (ABW) expects the new partnership to continue to be beneficial to their customers in their 66th year and beyond.
Not only do they stock the biggest inventory of off-priced institutional and home terry towels, microfiber cloths and wholesale towels in the U.S., but they also offer customers knowledge and expertise garnered from three generations of experience. No matter what customers need help with, whether they have quality questions, inventory needs or more specialized situations, the staff at A & B Wiper Supply (ABW) is able to provide the expert service that distinguishes the company.
"It was an excellent year for us here at A & B Wiper Supply (ABW) and, following the feedback, it was for the customers as well, and we are so excited to carry on with the plans we set into motion in our 65th year in business in 2013," a company spokesperson said.
For more information about A & B Wiper Supply (ABW) and their 65th year in business, visit their website at http://www.bestrags.com/.
A & B Wiper Supply (ABW)
Albert and Ben Kanefsky incorporated A&B Wiper in 1947, converting the company from repurposing scrap products from the textile industry to creating cloths for home and industrial use. Today they not only have the largest inventory of off-priced terry towels in the country, but the expert team also has some of the most extensive knowledge in the industry.