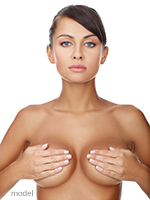 Los Angeles, California (PRWEB) March 07, 2013
The Food and Drug Administration (FDA) has approved a new "gummy bear" breast implant for use in women over the age of 22. The Natrelle 410, produced by Allergan, Inc. is an anatomically shaped breast implant made from silicone gel. (Go to: goo.gl/A3nbq)
"I'm always interested in the introduction of new products," says Dr. Simon Ourian, Medical Director of Epione Beverly Hills, "and I believe the FDA performs a vital mission in protecting the health of all cosmetic patients. It will be interesting to see if women will be making specific requests for Natrelle implants."
Based on data that has been collected over seven years from over 941 women, the FDA's review of the Natrelle 410 implant indicates that the product offers a reasonable level of safety and effectiveness. Most of the complications that arose were determined to have been occurred during earlier trials with breast implants.
Some of these complications observed were a noticeable unevenness, infection, and a sensation of tightening around the implant area. In some cases a second operation for correction or removal of the implants was required. There have also been cases of quite. The investigators also found the presence of some cracks, or fissures, in a few Natrelle 410 implants. This is a defect specific to this product.
A conditional approval was given to Allergan based on following certain guidelines. For an additional five years it must track the first 3500 women who received breast augmentation with these implants. It will have to undertake a decade long study covering 2000 women to look for any long-term complications such as implant rupture. Finally, it will also have to conduct five controlled case studies and look into the possibilities of any link between gel-filled implants and five major rare diseases, such as lymphoma or brain cancer.
"It appears as though Allergan has some work to do before full approval is granted," concludes Dr. Ourian. "Given my experience with their Botox and Juvéderm products, I expect full approval to be granted in the future.
Dr. Ourian has been a pioneer in laser technology and non-invasive aesthetic procedures including Restylane, Juvéderm, Radiesse and Sculptra. These treatments are used for the correction or reversal of a variety of conditions such as acne, acne scars, skin discoloration, wrinkles, stretch marks, varicose veins, cellulite, and others. More information about breast augmentation can be found on Epione's website.